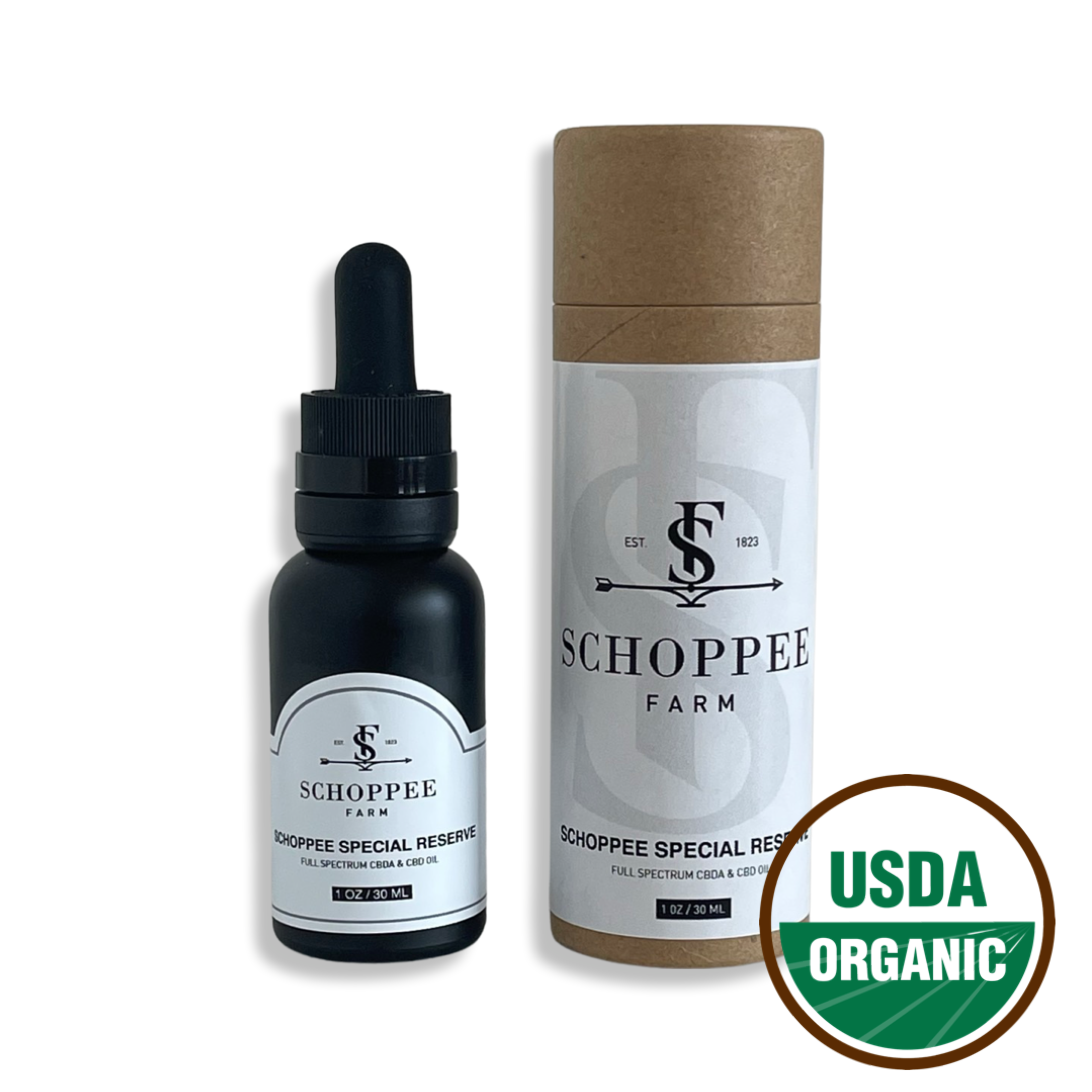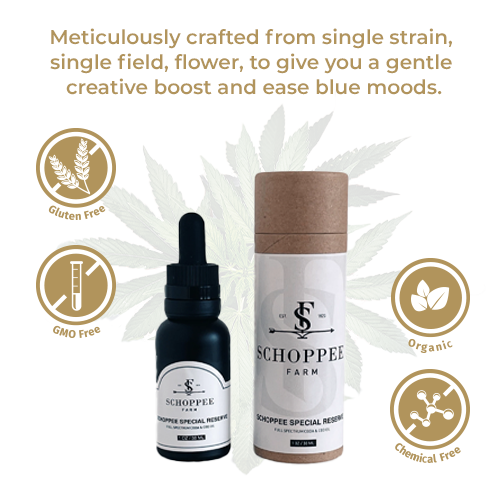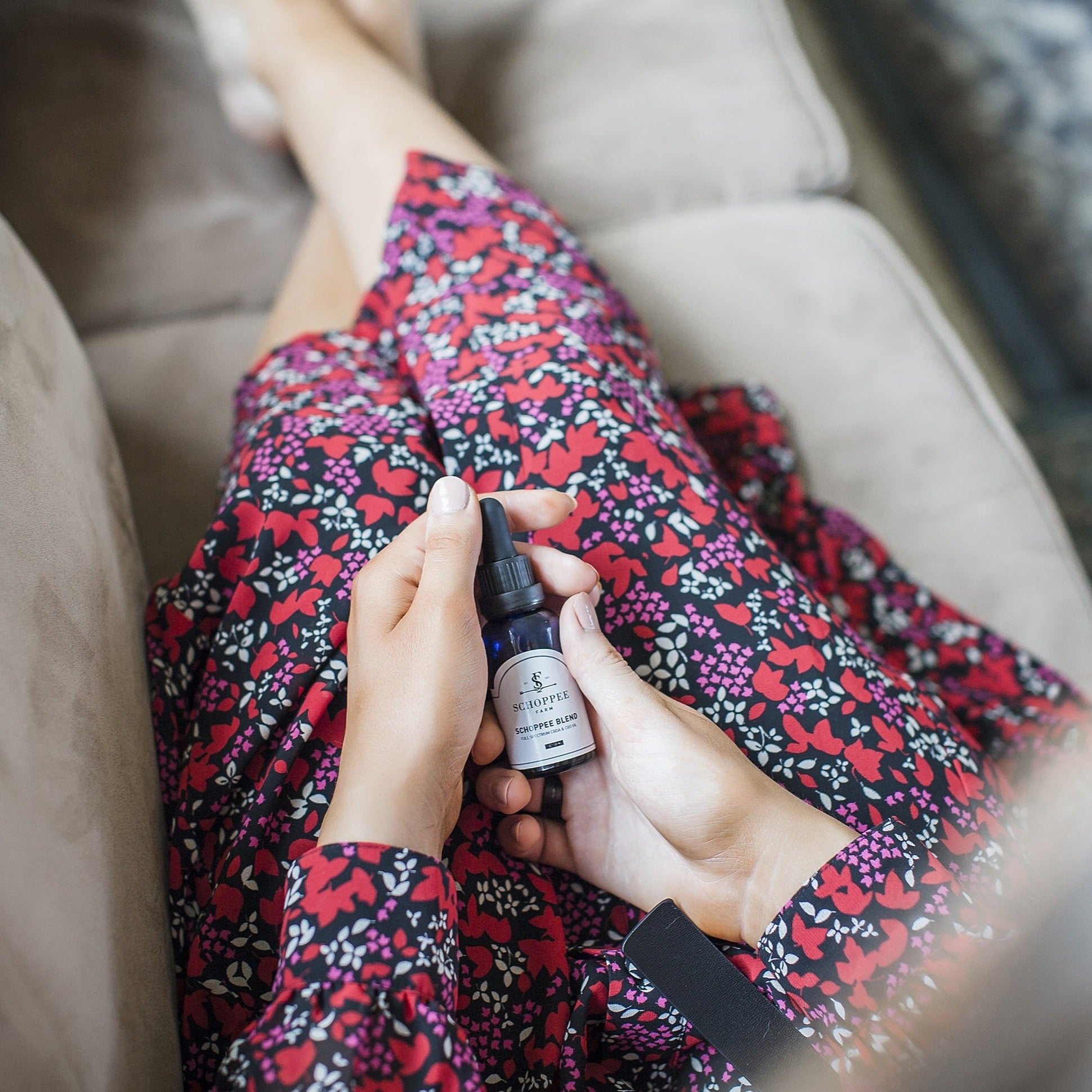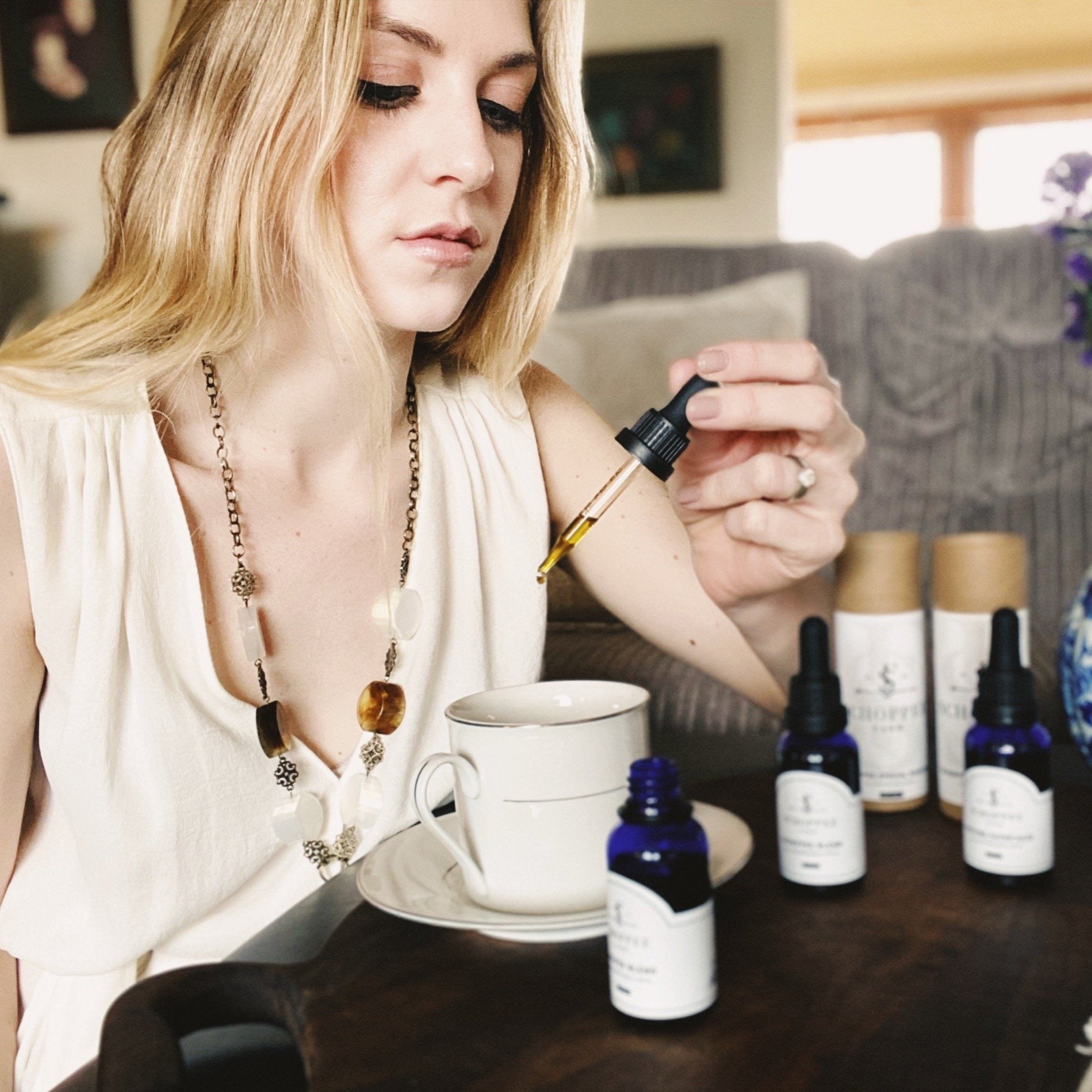 Daily LIFT Schoppee Special Reserve Oil
The daytime, feel better and get things done, super blend. Meticulously crafted from single strain, single field, flower, to give you a gentle creative boost and ease blue moods while gently relaxing away minor aches and pains. This oil is designed to be your go to blend for daytime use.
Schoppee Special Reserve is a full spectrum mix of CBDa and CBD extracted through a painstaking process at room temperature. Preserving the absolute maximum of our finest USDA certified organic hemp flowers powerful medicine. This is as full spectrum as you can get. 
Suspended in unfiltered organic hemp seed oil that is full of essential fatty acids this extract has only two ingredients: Hemp seed oil and our high phytocannabinoid extract. The mango flavor also has organic mango extract. 
Available in two flavors; Natural and Essence of Mango
Details:
Made exclusively with Schoppee's Farm's USDA certified organic hemp flower.

Contains 600 mg of phytocannabinoids per bottle
1:3 CBD:CBDa ratio
Non-GMO

Vegan
No pesticides, herbicides, solvents, or chemical fertilizers
Non intoxicating
Laboratory tested
Schoppee Special Reserve Product Information and Dosing Page
• Made exclusively with Schoppee's Farm's USDA certified organic hemp flower.
• Contains 600 mg of phytocannabinoids per bottle
• 1:3 CBD:CBDa ratio
• Non-GMO
• Vegan
• No pesticides, herbicides, solvents, or chemical fertilizers
• Non intoxicating
• Laboratory tested
Daily LIFT Schoppee Special Reserve Oil
Our Promise to you
100% satisfaction guaranteed
Our products are 100% satisfaction guaranteed for 60 days. If you are not satisfied, for any reason, let us know, and we will make it right. 
See our Purchase and Refund Policy for more details. 
FAQ
What is CBD?
CBD is short for cannabidiol. It is one of about 100 cannabinoids that naturally occur in all hemp plants. CBD is safe to consume and non-intoxicating. 
Will it make me feel high?
Short answer: No. CBD is non-intoxicating. 
In Depth: No. Again, CBD will not make you feel high. People love to say that CBD is "non-psychoactive", what they likely mean is that CBD is "non- intoxicating". 
Is CBD addictive?
Short answer: No. CBD is not considered addictive. 
In Depth: CBD is generally considered to be non-habit forming and non-addictive. According to a report from the World Health Organization (WHO), "In humans, CBD exhibits no effects indicative of any abuse or dependence potential…To date, there is no evidence of public health relate problems associated with the use of pure CBD."
What is the difference between THC and CBD?
Short answer: THC (tetrahydrocanabinal), and CBD (cannabidiol) are both naturally occurring cannabinoids. THC is psychoactive and it is intoxicating. It is the component of marijuana that gives users the "high". 
In Depth: In contrast to THC, CBD has no effect on heart rate or blood pressure under normal conditions, but in animal models of stress it reduces hear rate and blood pressure. [48]
Shipping
Fast shipping
We know it is important to get your order to you as soon as possible. Most of the time we are pretty darn fast and ship the same day you order, but please allow 2 full business days for us to package and ship your order.
Tracking numbers are provided at the time of shipping. Check your spam folder if you don't see your tracking info after 2 full days.
All orders come in sealed packages, inside generic kraft cardboard boxes, with generic return information.
 All orders come with a standard "Notice to Law Enforcement," and a copy of the test results for that product's corresponding batch.  
Packaging
Why we package the way we do…
We believe in doing everything we can to reduce our ecological footprint without compromising the quality and safety of our products. This belief permeates every aspect of our farm, including how we package. Nearly every bit of our packaging is recyclable, or compostable, from the tin cans we use to package our flower, to the little round compostable labels on their bottoms.
See our Environmental Statement for more details. 
so far, SO GOOD
I have slowly eased into making this part of my daily routine, afternoon delight. I look forward to the lift, and had no intestinal issues. I am a happy camper.
Great seller and product
Product arrived quickly. Packaged nicely. Product paperwork included. Product is well tolerated and is effective. You will not be disappointed ordering from Schoppee.
Hi Shirley,
Thank you so much for taking the time to write a review! Please don't hesitate to reach out if any questions come up.
Ben and the Schoppee Crew
Wow
I have been using Schoppee Blend for six months. After a period of adjusting dose, I have achieved good management of my chronic pain. I have also experienced great improvement in my mood overall. Thank you
Pam,
Thank you so much for writing a review. I am so pleased to hear the Schoppee Special is working for you! There are quite a few of us around the farm that use it for the exact same reason. Just a little gentle boost in energy and mood!
Thank you again,
Ben
Great Product
Schoppee Farm has a great product with a wonderful family in charge! They care enough to check in to make sure there product is working for me and offer suggestions to help with my chronic back pain. Thank you Schoppee Farm team!