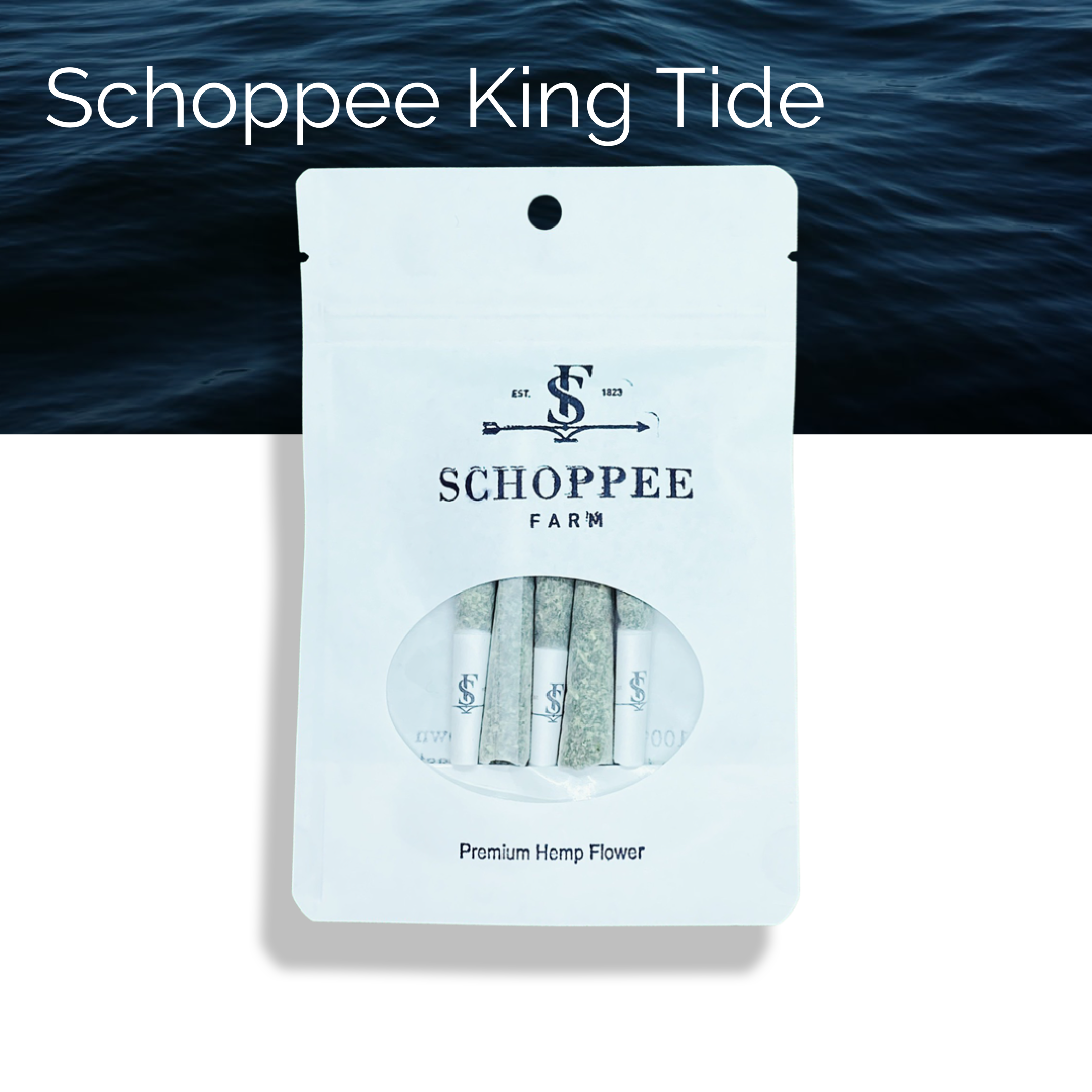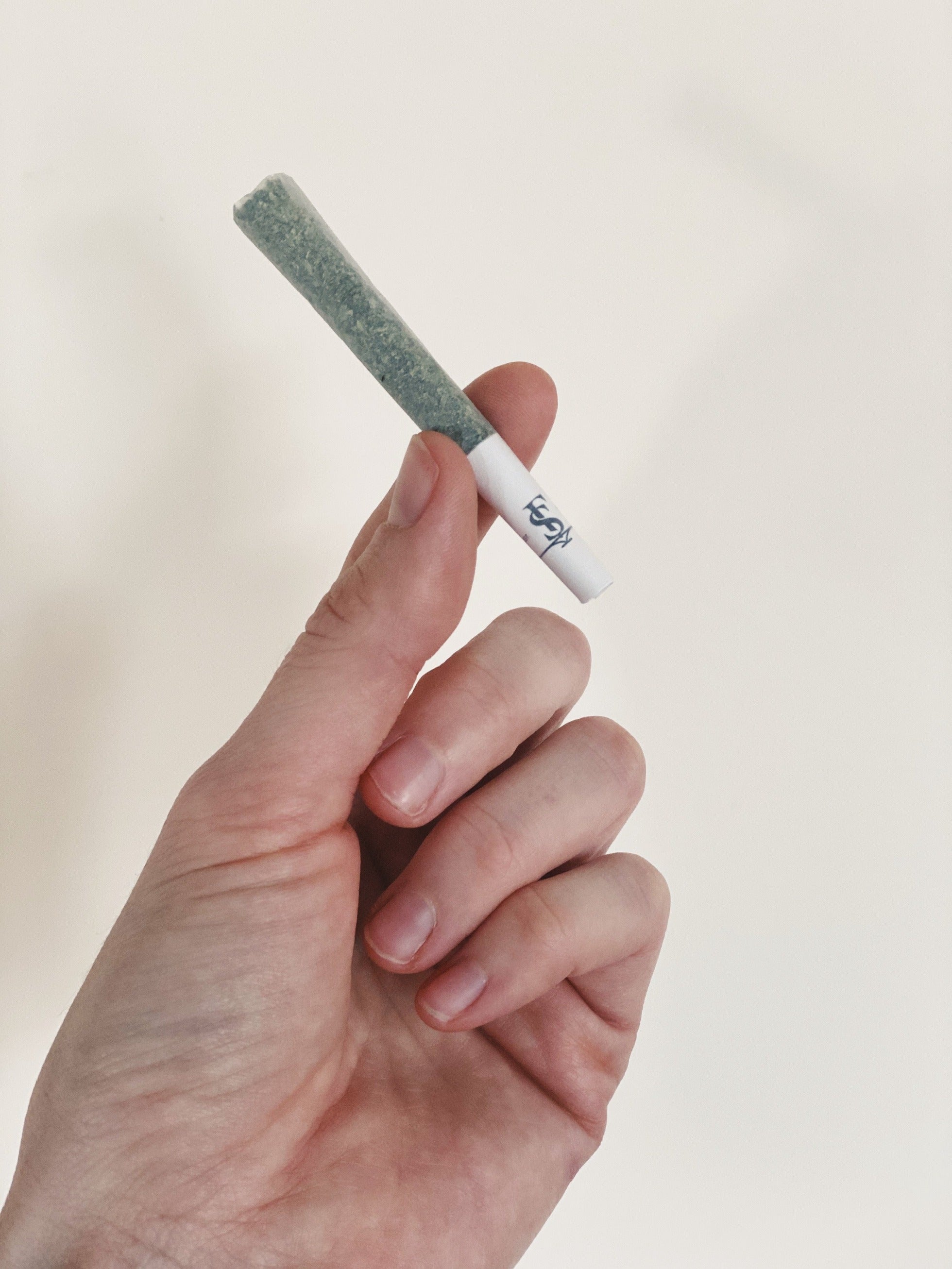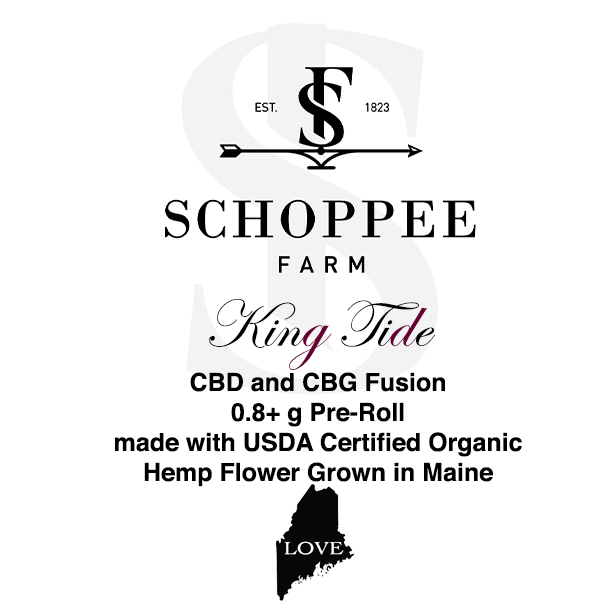 Schoppee King Tide - CBG + CBD - Pre-roll
The Schoppee King Tide pre-roll is a fusion of our Schoppee Sour and our Sour CBG rich flower. Selected to create the smoothest smoking most uplifting daytime blend possible. This just might be the best pre-roll we have ever created. Incredibly smooth with a moderate flavor and aroma. This is the ultimate daytime, get things done, blend. It has quickly become the go to pre-roll on the farm. 

Smooth and easy to smoke. Our pre-rolls are made exclusively from 0.8g or more of Schoppee Farm's USDA certified organic flower. We use only the finest french rolling papers and pack and finish each single by hand to ensure a pleasant and consistent smoking experience. 

All Schoppee Farm flower is USDA certified organic

A note on the packaging: our single pre-rolls are packaged in reclaimed ocean plastic tubes that are HDPE #2 recyclable. The labels are compostable. The 5-packs are packaged in hermetically sealed, 100% compostable bags.
Dominant Terpenes: β-Myrcene, β-Caryophyllene, Guaiol, a-Bisabolol, β-Caryophyllene
Type: Fusion of sativa-dominant hybrids
Schoppee King Tide - CBG + CBD - Pre-roll
Our Promise to you
100% satisfaction guaranteed
Our products are 100% satisfaction guaranteed for 60 days. If you are not satisfied, for any reason, let us know, and we will make it right. 
See our Purchase and Refund Policy for more details. 
FAQ
What is CBD?
CBD is short for cannabidiol. It is one of about 100 cannabinoids that naturally occur in all hemp plants. CBD is safe to consume and non-intoxicating. 
Will it make me feel high?
Short answer: No. CBD is non-intoxicating. 
In Depth: No. Again, CBD will not make you feel high. People love to say that CBD is "non-psychoactive", what they likely mean is that CBD is "non- intoxicating". 
Is CBD addictive?
Short answer: No. CBD is not considered addictive. 
In Depth: CBD is generally considered to be non-habit forming and non-addictive. According to a report from the World Health Organization (WHO), "In humans, CBD exhibits no effects indicative of any abuse or dependence potential…To date, there is no evidence of public health relate problems associated with the use of pure CBD."
What is the difference between THC and CBD?
Short answer: THC (tetrahydrocanabinal), and CBD (cannabidiol) are both naturally occurring cannabinoids. THC is psychoactive and it is intoxicating. It is the component of marijuana that gives users the "high". 
In Depth: In contrast to THC, CBD has no effect on heart rate or blood pressure under normal conditions, but in animal models of stress it reduces hear rate and blood pressure. [48]
Shipping
Fast shipping
We know it is important to get your order to you as soon as possible. Most of the time we are pretty darn fast and ship the same day you order, but please allow 2 full business days for us to package and ship your order.
Tracking numbers are provided at the time of shipping. Check your spam folder if you don't see your tracking info after 2 full days.
All orders come in sealed packages, inside generic kraft cardboard boxes, with generic return information.
 All orders come with a standard "Notice to Law Enforcement," and a copy of the test results for that product's corresponding batch.  
Packaging
Why we package the way we do…
We believe in doing everything we can to reduce our ecological footprint without compromising the quality and safety of our products. This belief permeates every aspect of our farm, including how we package. Nearly every bit of our packaging is recyclable, or compostable, from the tin cans we use to package our flower, to the little round compostable labels on their bottoms.
See our Environmental Statement for more details. 
Great!
This is so smooth and makes me feel better in every way. I really appreciate what you guys are doing! Please keep it up!
Kim
All I can say is it help me a lot with all the troubles I've been having with anxiety
Order
You are an amazing Company. I've have ordered from many places. I spent so much many and was disappointed.
I was amazed with my first order.
It helped me so much. I have Fibromyalgia, RA, Nueropahy and PTSD.
I was so excited because it helped tremendously.
I am touched by the personal note.
My second order was even better. You make me feel like you took the time to acknowledge me personally.
Be safe and be well. Thank you.
Truly grateful,
Denise Gary
I was shoc
Hi Denise,
Thank you so much for such a lovely review! I am so happy that you are finding some relief with our products! Please don't ever hesitate to reach out if any questions come up.
Ben
This was the first time I tried Schoppee farms products. I got my package and was excited to open it. It was packaged so nicely. The King tide cbd and cbg did help some with my fibromyalgia pain. I will definitely order this again. Ben was a great help with choosing what I needed for my ailments. Looking forward to trying different products.
P.s the hand rolls were perfectly rolled with love. Thank you!!
Thank you Margo! I'm so happy to hear they are helping a little with your pain. Keep us posted and let us know if there is anything we can do to help.
Ben
Schoppee King Tide - CBD + CBG - Hand made singles
Thanks Samuel, these are my favorites!
Ben