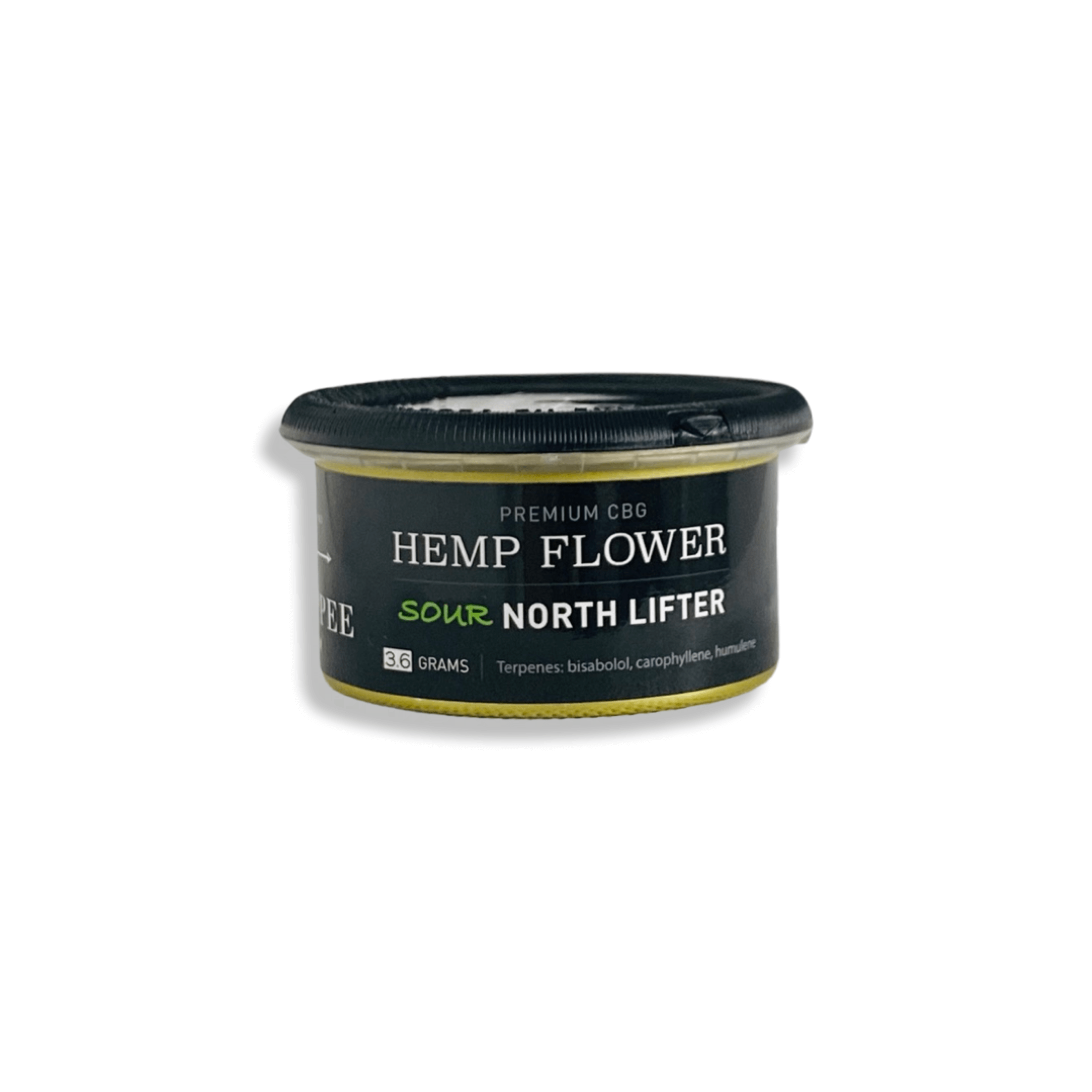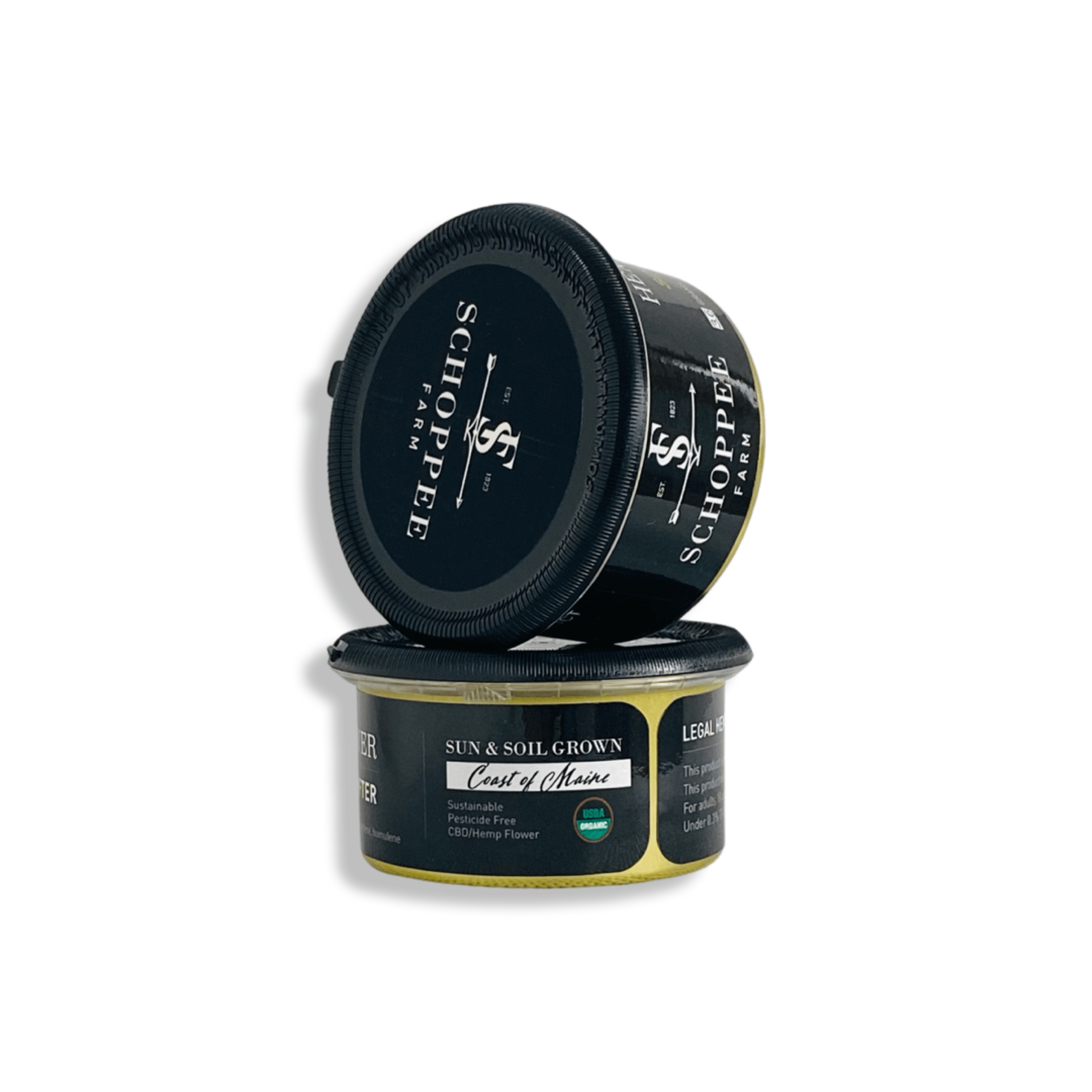 Sour North Lifter - Flower
Sour North Lifter, 
An interesting twist on the original North Lifter strain. More pungent, gas and citrus forward. It provides an uplifting and energizing CBD flower experience. A great daytime strain. 
About Schoppee Farm Flower
Every step in the process of producing this premium flower is done by hand on our farm in Maine. We hand plant, tend, harvest, slow cure, hand manicure, and hand pack every single bud. The very first time any of our product leaves the farm is when we pack and ship it directly to you in hermetically sealed, recyclable, child safe containers. 
We take great pride in our flower, it is our signature product on the Schoppee Farm, and is the foundation upon which every one of our other products are built. Every step is carefully engineered and executed to produce the very finest, purest, safest, flower you can purchase anywhere in the world.  
All Schoppee Farm flower is USDA certified organic

Cannabinoid Content: 16.4% CBDa & 0.04% Δ9 THC
Dominant Terpenes: limonene, bisabolol, caryophyllene
Type:  Sativa-dominant Hybrid
Nose: citrus
Grown 100% beyond organically, under sunny Maine skies, without any kind of pesticides, sprays, or synthetic fertilizers. Ever.  
All our flower is packaged in recyclable tin cans with a three year shelf life! 
Despite the low concentration of THC, Schoppee Farm makes NO guarantee that any individual will be able to pass a drug test after using this product.
Sour North Lifter - Flower
Our Promise to you
100% satisfaction guaranteed
Our products are 100% satisfaction guaranteed for 60 days. If you are not satisfied, for any reason, let us know, and we will make it right. 
See our Purchase and Refund Policy for more details. 
FAQ
What is CBD?
CBD is short for cannabidiol. It is one of about 100 cannabinoids that naturally occur in all hemp plants. CBD is safe to consume and non-intoxicating. 
Will it make me feel high?
Short answer: No. CBD is non-intoxicating. 
In Depth: No. Again, CBD will not make you feel high. People love to say that CBD is "non-psychoactive", what they likely mean is that CBD is "non- intoxicating". 
Is CBD addictive?
Short answer: No. CBD is not considered addictive. 
In Depth: CBD is generally considered to be non-habit forming and non-addictive. According to a report from the World Health Organization (WHO), "In humans, CBD exhibits no effects indicative of any abuse or dependence potential…To date, there is no evidence of public health relate problems associated with the use of pure CBD."
What is the difference between THC and CBD?
Short answer: THC (tetrahydrocanabinal), and CBD (cannabidiol) are both naturally occurring cannabinoids. THC is psychoactive and it is intoxicating. It is the component of marijuana that gives users the "high". 
In Depth: In contrast to THC, CBD has no effect on heart rate or blood pressure under normal conditions, but in animal models of stress it reduces hear rate and blood pressure. [48]
Shipping
Fast shipping
We know it is important to get your order to you as soon as possible. Most of the time we are pretty darn fast and ship the same day you order, but please allow 2 full business days for us to package and ship your order.
Tracking numbers are provided at the time of shipping. Check your spam folder if you don't see your tracking info after 2 full days.
All orders come in sealed packages, inside generic kraft cardboard boxes, with generic return information.
 All orders come with a standard "Notice to Law Enforcement," and a copy of the test results for that product's corresponding batch.  
Packaging
Why we package the way we do…
We believe in doing everything we can to reduce our ecological footprint without compromising the quality and safety of our products. This belief permeates every aspect of our farm, including how we package. Nearly every bit of our packaging is recyclable, or compostable, from the tin cans we use to package our flower, to the little round compostable labels on their bottoms.
See our Environmental Statement for more details.