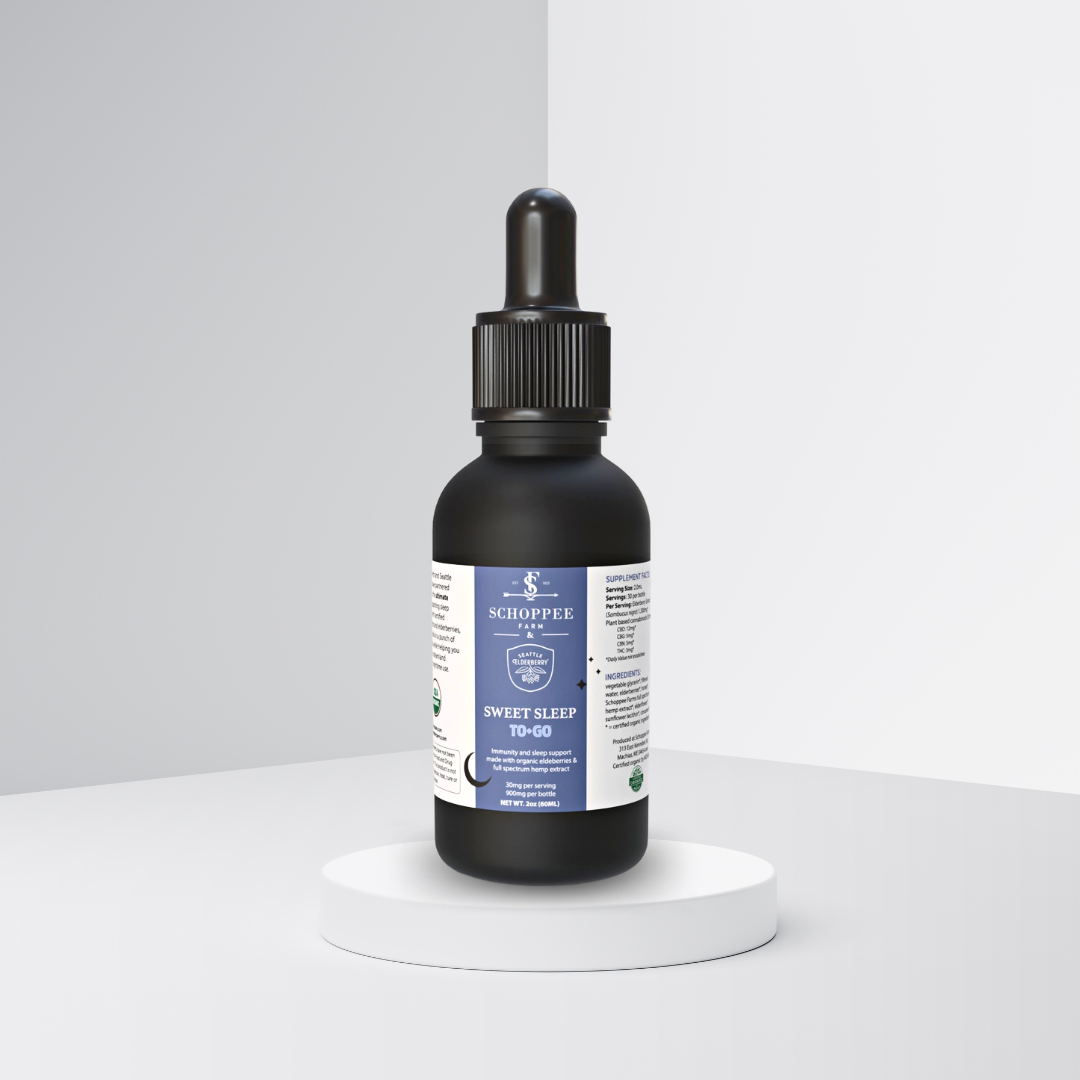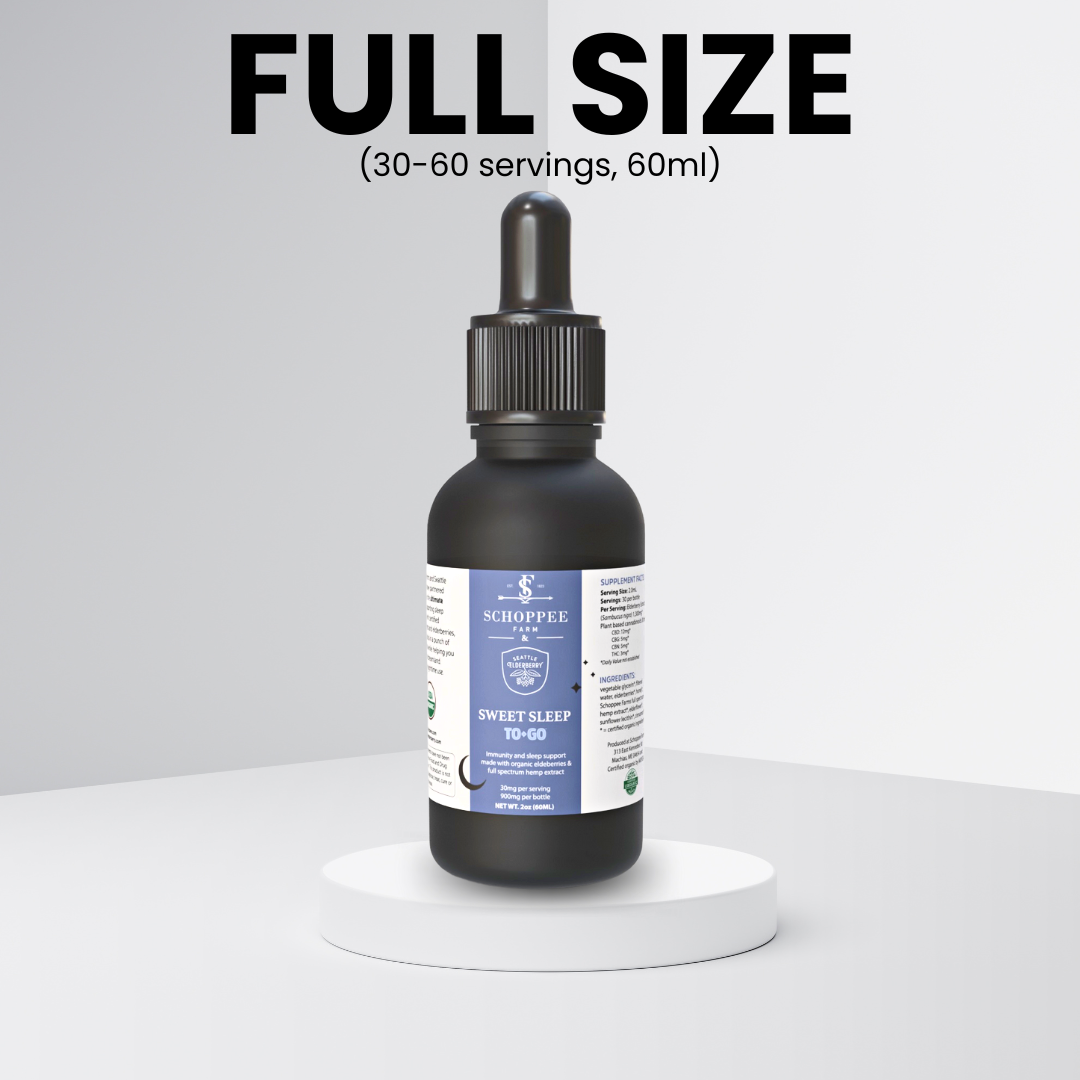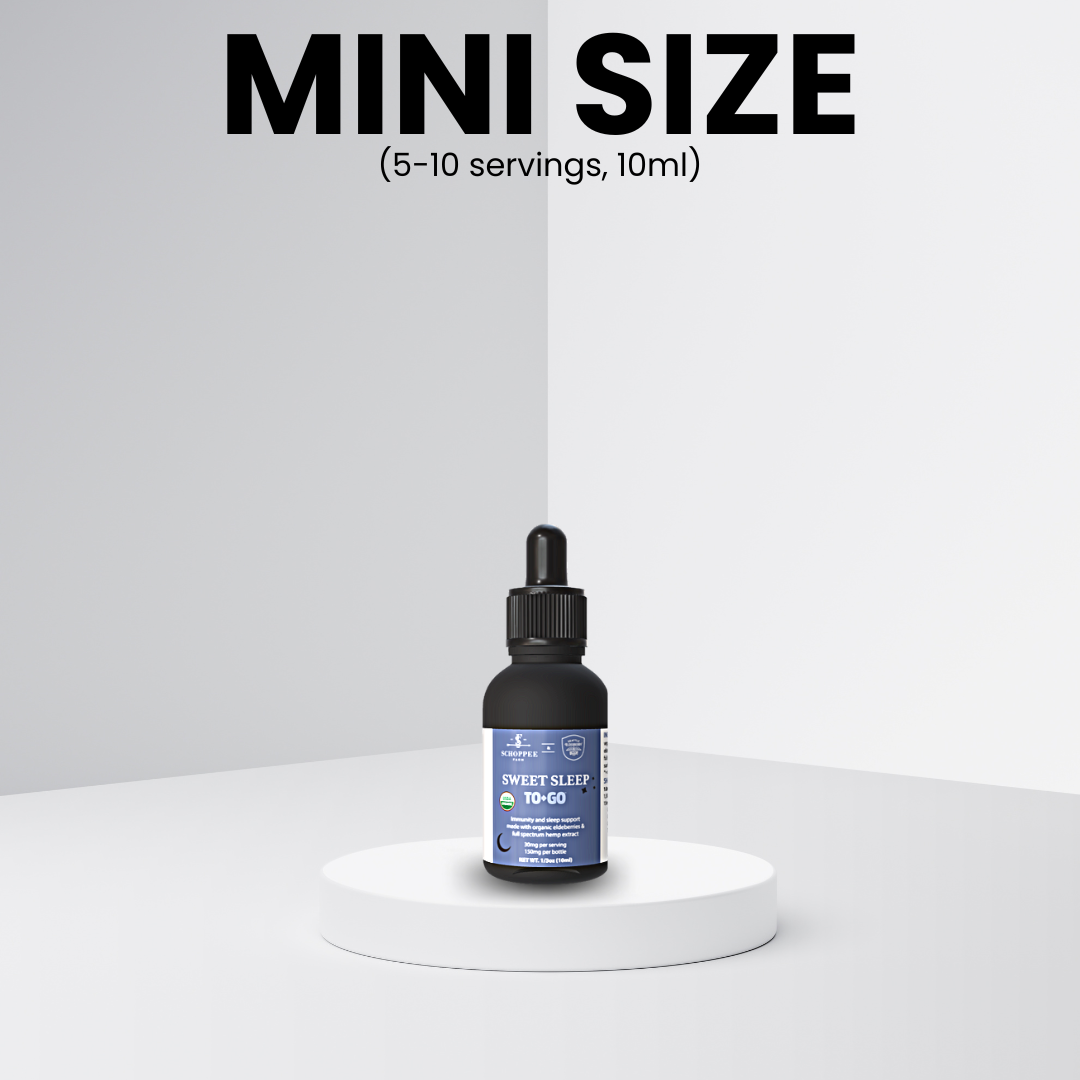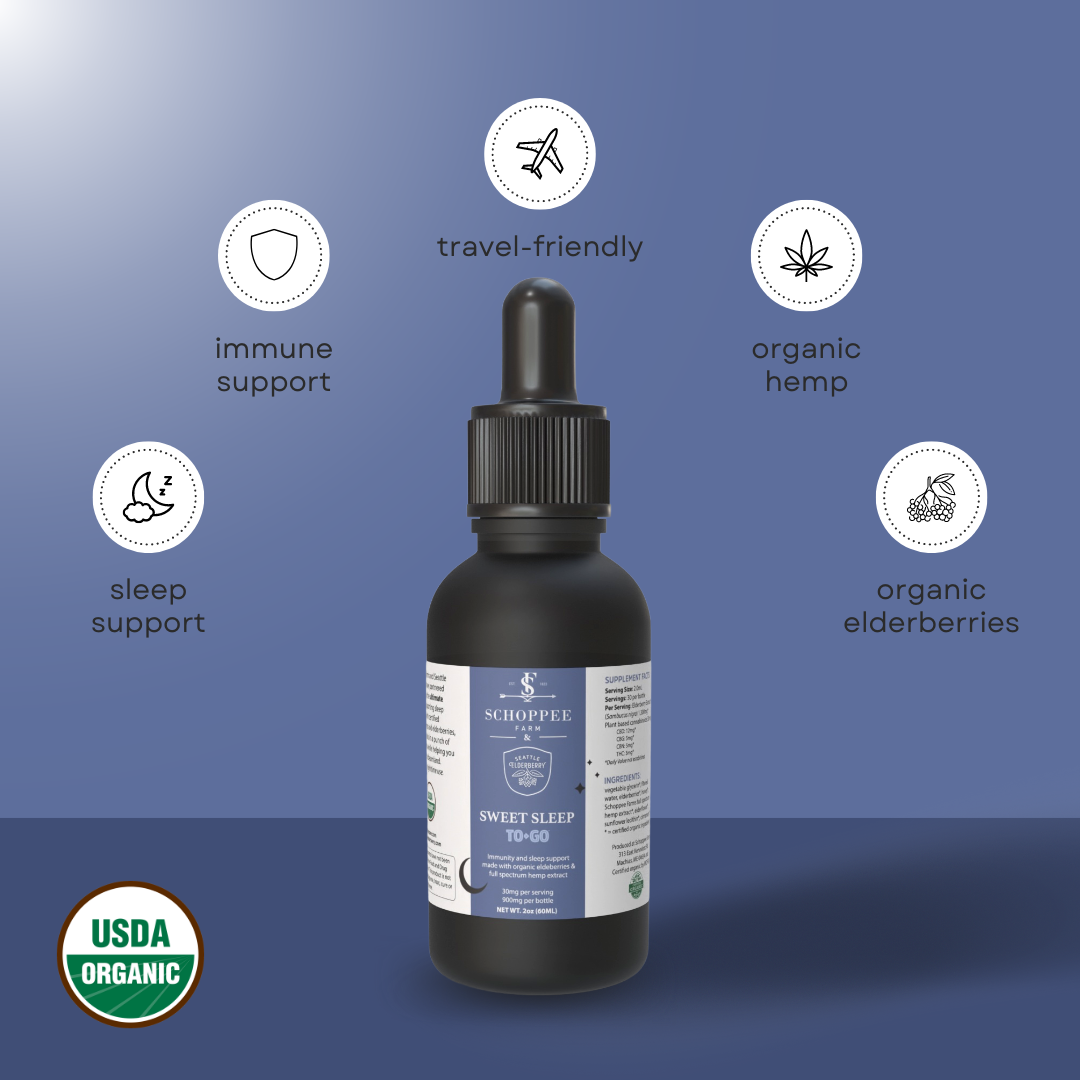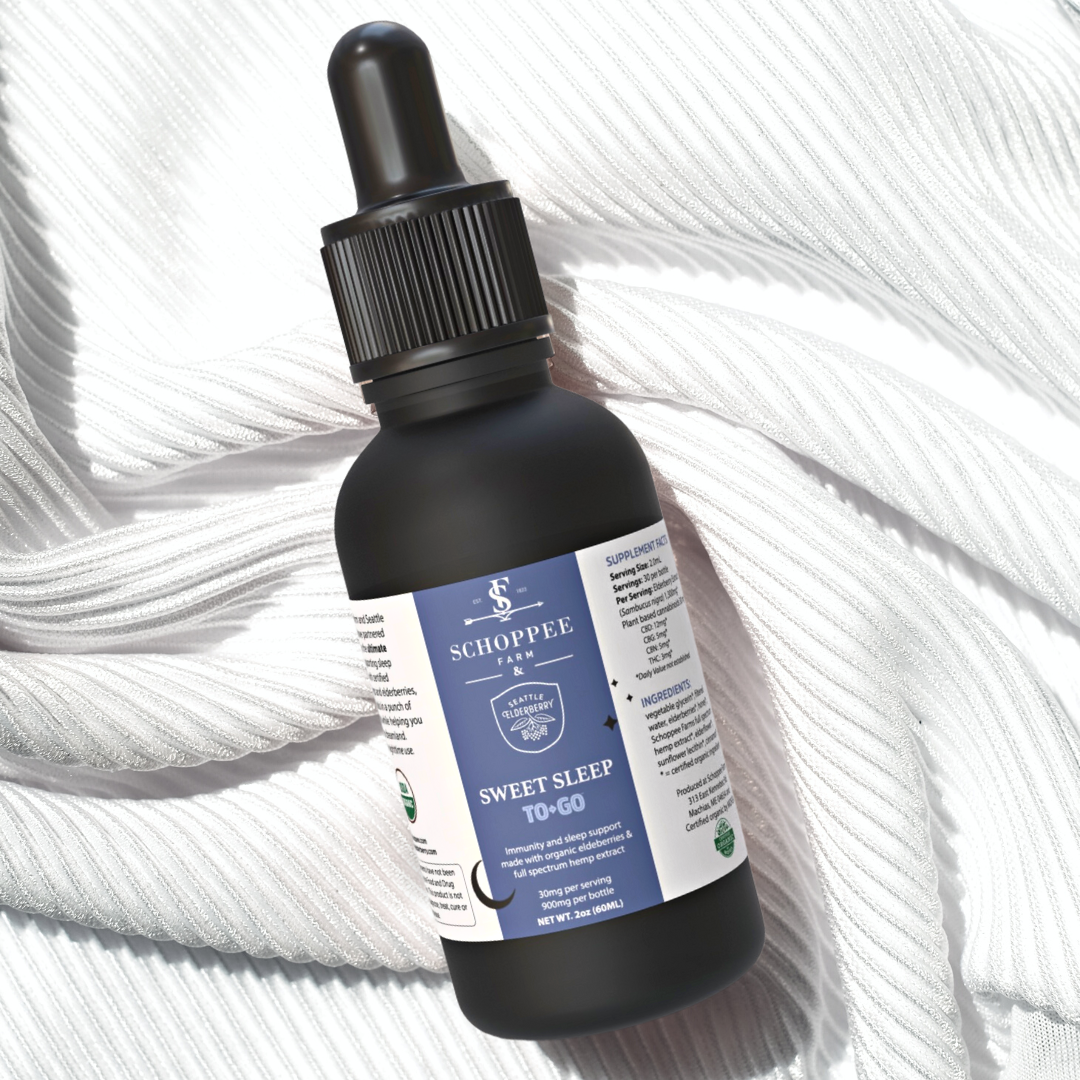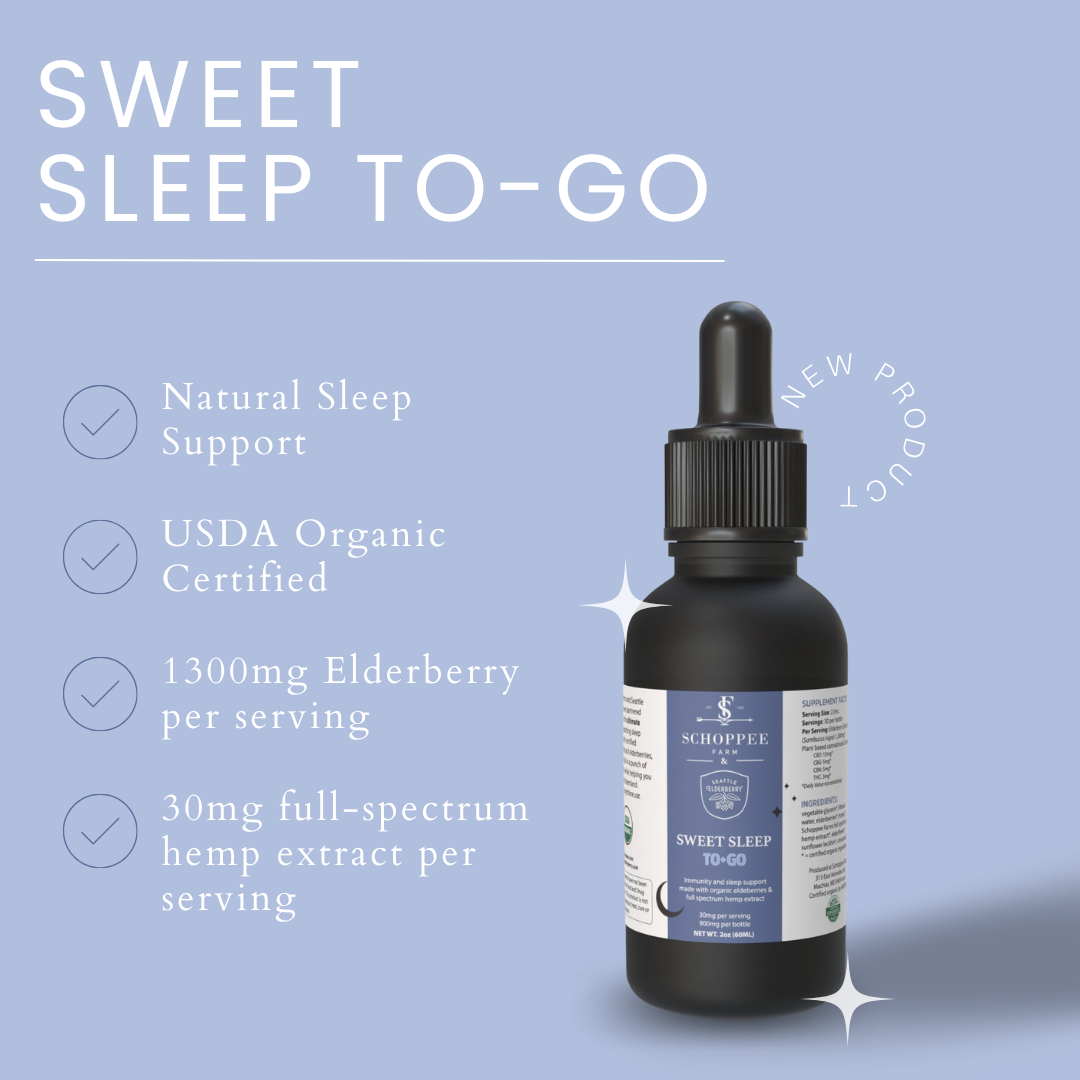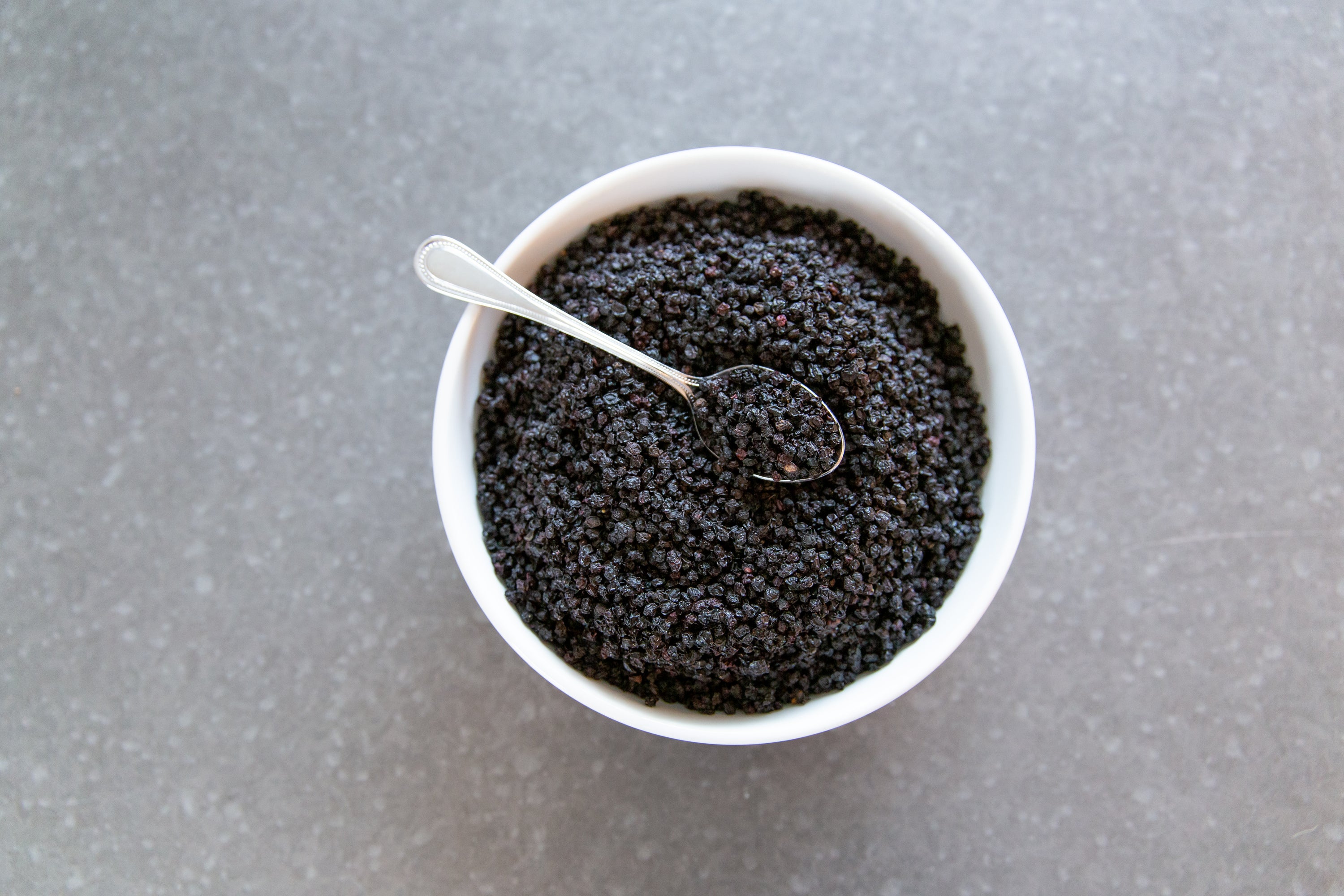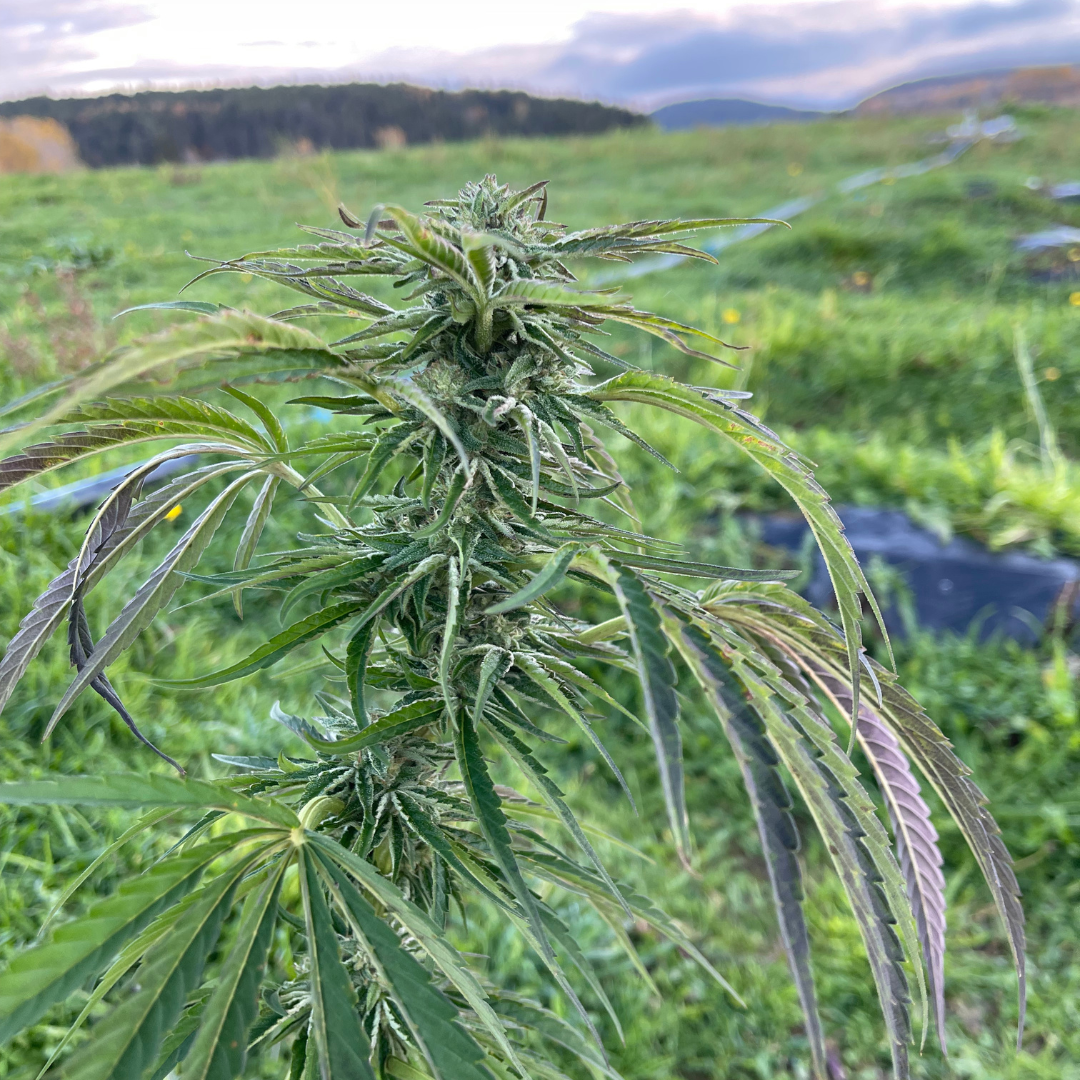 Sweet Sleep To-Go™
$68.00
Regular price
$95.00
Subscription • Save
Immune & Sleep Support
Support a healthy immune system & get the sleep you deserve with Sweet Sleep To-Go™ by Seattle Elderberry and Schoppee Farm. USDA Organic Certified sleep support to help you drift away to dreamland. ✨✨
Description
Ingredients
Directions
Details
Did you know that lack of sleep can negatively impact the immune system?
In collaboration with Seattle Elderberry we present: Sweet Sleep To-Go™, a USDA Organic Certified herbal tincture for sleep and immune support.
Made with organic elderberries and organic full-spectrum hemp grown on Schoppee Farm in Maine, this elixir packs in a punch of antioxidant support in a travel-friendly tincture that helps you drift away to dreamland.
Fall asleep easily. Stay asleep longer. Wake up feeling refreshed.

Good sleep is essential. A healthy immune system is essential. Find the sleep & immune support you need, naturally with Sweet Sleep To-Go™.
Made exclusively with organic elderberries and full-spectrum high CBN hemp extract from Schoppee Farm's USDA Certified Organic hemp flower.

Note: This product contains full-spectrum hemp and is not intended for children.
vegetable glycerin*, filtered water, elderberries*, honey*, Schoppee Farms full-spectrum hemp extract*, elderflower*, sunflower lecithin*, cinnamon*.
*=organic ingredient
We recommend a "start low and go slow" approach to find your ideal dosage. For most people, the ideal dose for sleep is between 0.5ml and 2.0ml, but this can vary widely. Start with 0.25ml and work up as needed.
Good sleep is essential. A healthy immune system is essential. Find the sleep & immune support you need, naturally with Seattle Elderberry x Schoppee Farm's Sleep Special Immune Support Tincture.
Sweet Sleep To-Go™
$68.00
Regular price
$95.00
IF YOU'RE LIKE MOST AMERICANS...
You're Not Getting Enough Sleep.
Adequate sleep is ESSENTIAL to a healthy, thriving immune system. Having trouble falling asleep? Waking up often? Not getting enough sleep? Lack of sleep might be hurting your immune system.
YOU NEED TO SLEEP WELL
Lack of Sleep Can Make You Sick
A study from Northwestern Medicine found that after four days of just five hours of sleep per night, white blood cell production was significantly reduced compared to those who got seven hours per night— suggesting a link between inadequate sleep and diminished immune function. 
How Hemp Can Help
Our proprietary full-spectrum, USDA certified organic Hemp extract in Sweet Sleep To-Go™ aids in relaxation and promotes a restful sleep.
Each 2ml serving of Sweet Sleep To-Go™ contains:
1300mg elderberry extract
12mg CBD
5mg CBG
5mg CBN
3mg THC*
(*This product contains 0.3% THC or less in accordance with federal law)
ZERO ISOLATES
What does "Full-Spectrum" Mean?
To make the worlds best sleep aid you have to start with the worlds best hemp. Our sun-drenched, rich farmland on the pristine Downeast Maine coast provides the foundation. We then carefully select the strains of hemp we grow so that the most beneficial cannabanoids and terpenes are present. We then honor nature's incredible gifts by using gentle, planet-friendly processing that retains all these beneficial compounds all the way to the final product. We believe in the power of the whole plant. We never use isolates or inferior extraction methods. Only the best for Schopee Farm and our customers.
More About The Farm
Benefits of Exceptional Sleep
ABOUT OUR PARTNERSHIP
Schoppee Farm & Seattle Elderberry
USDA Organic Full-Spectrum Hemp: Grown & Processed at Schoppee Farm in Maine.
Organic, Antioxidant-Rich Elderberries.
A partnership made for Sweet Dreams.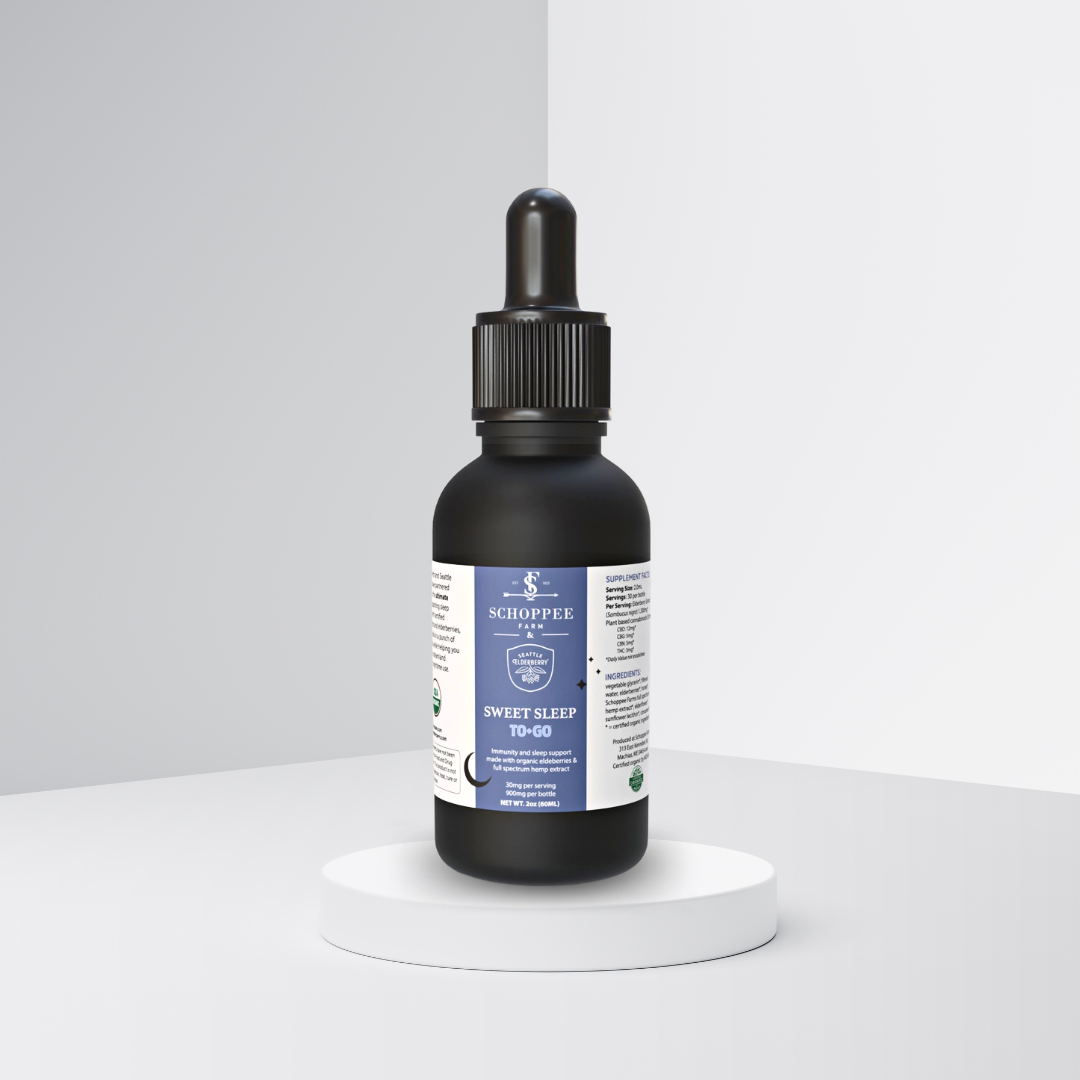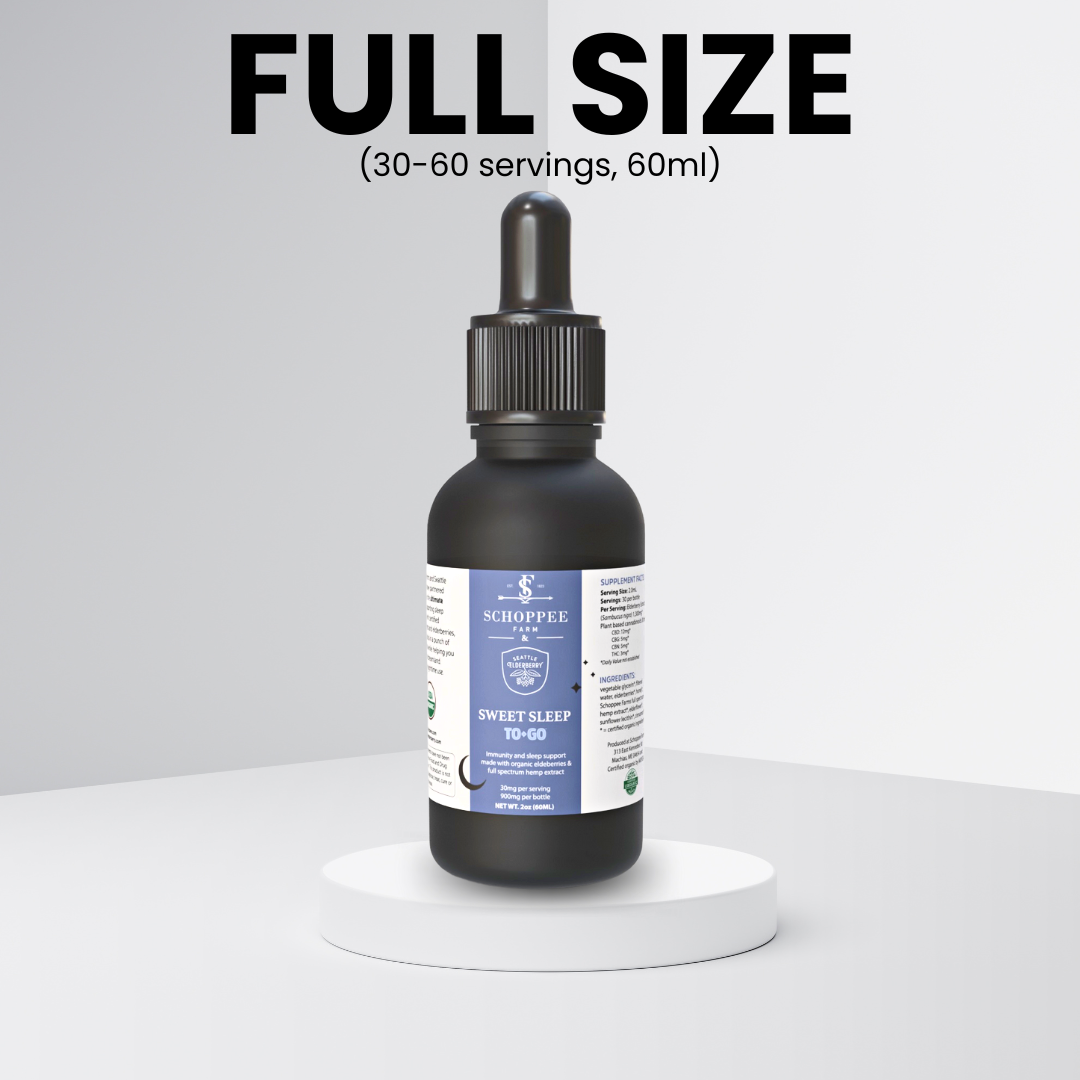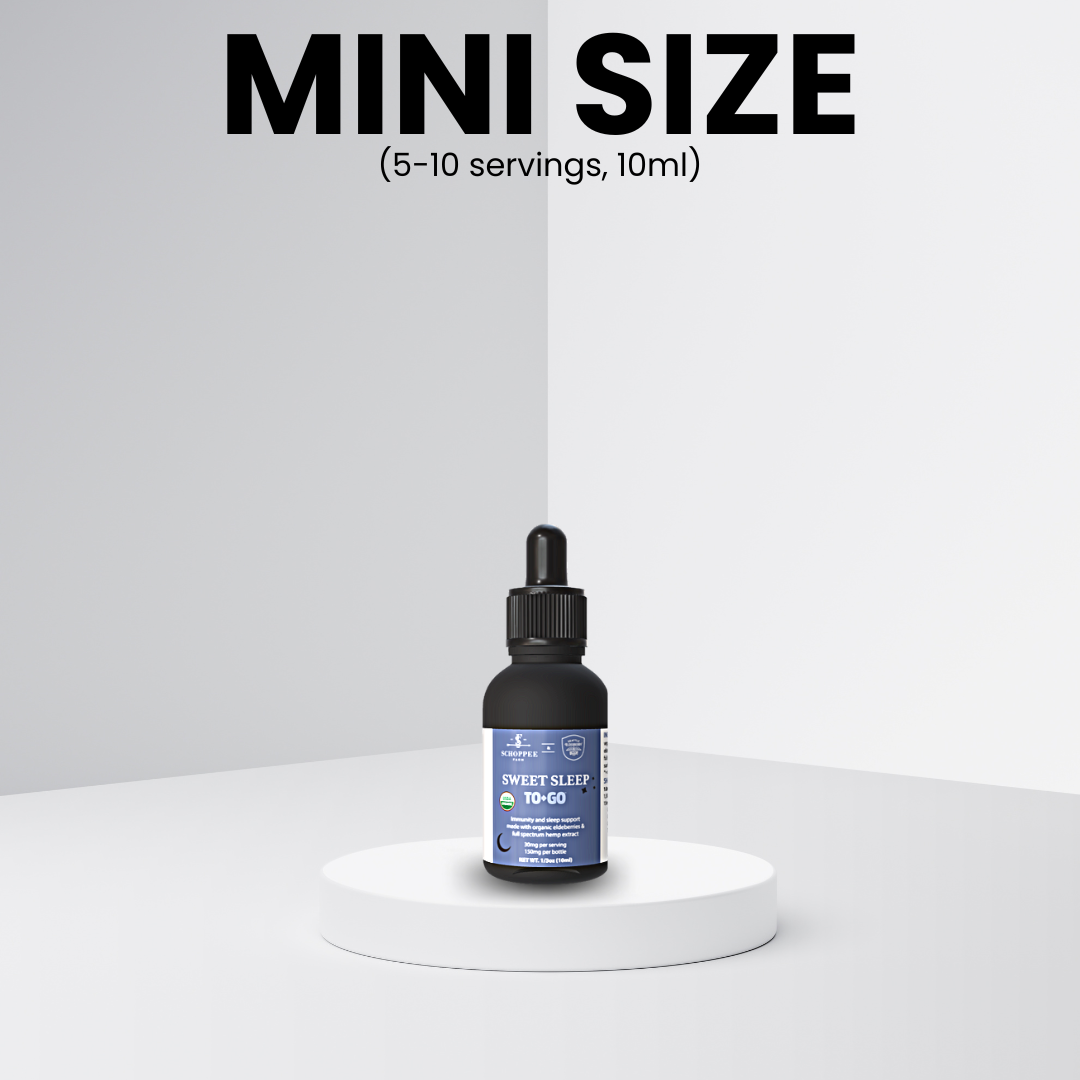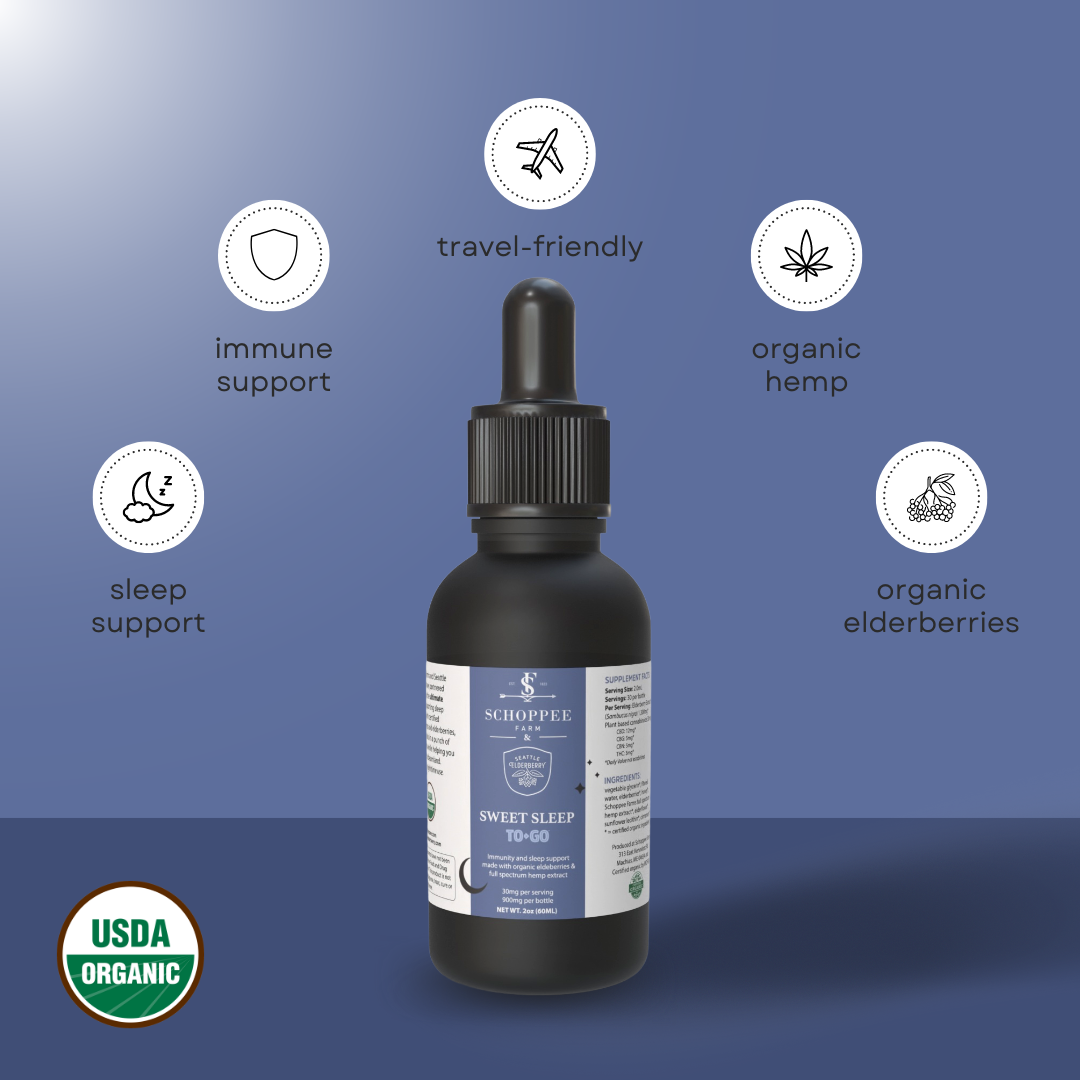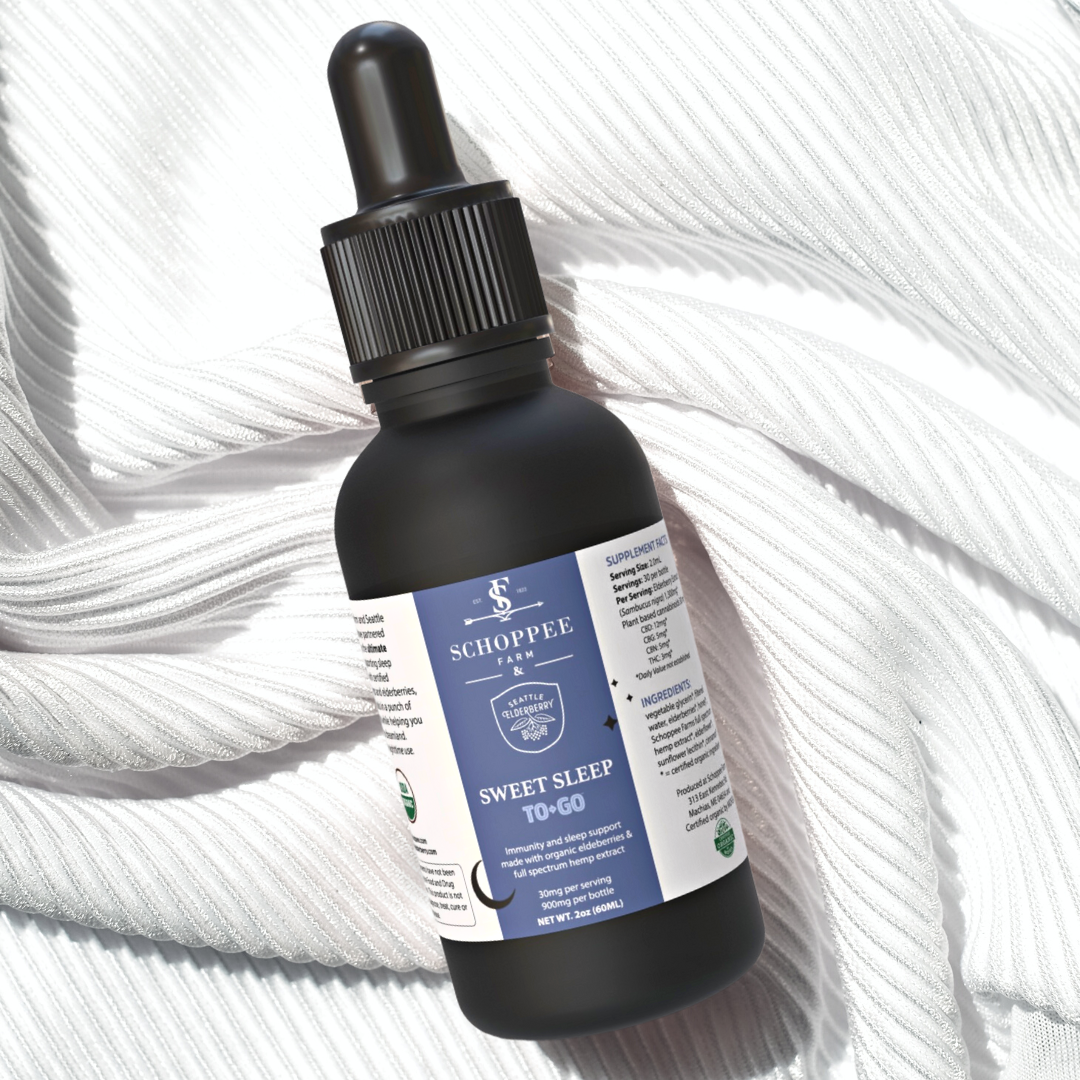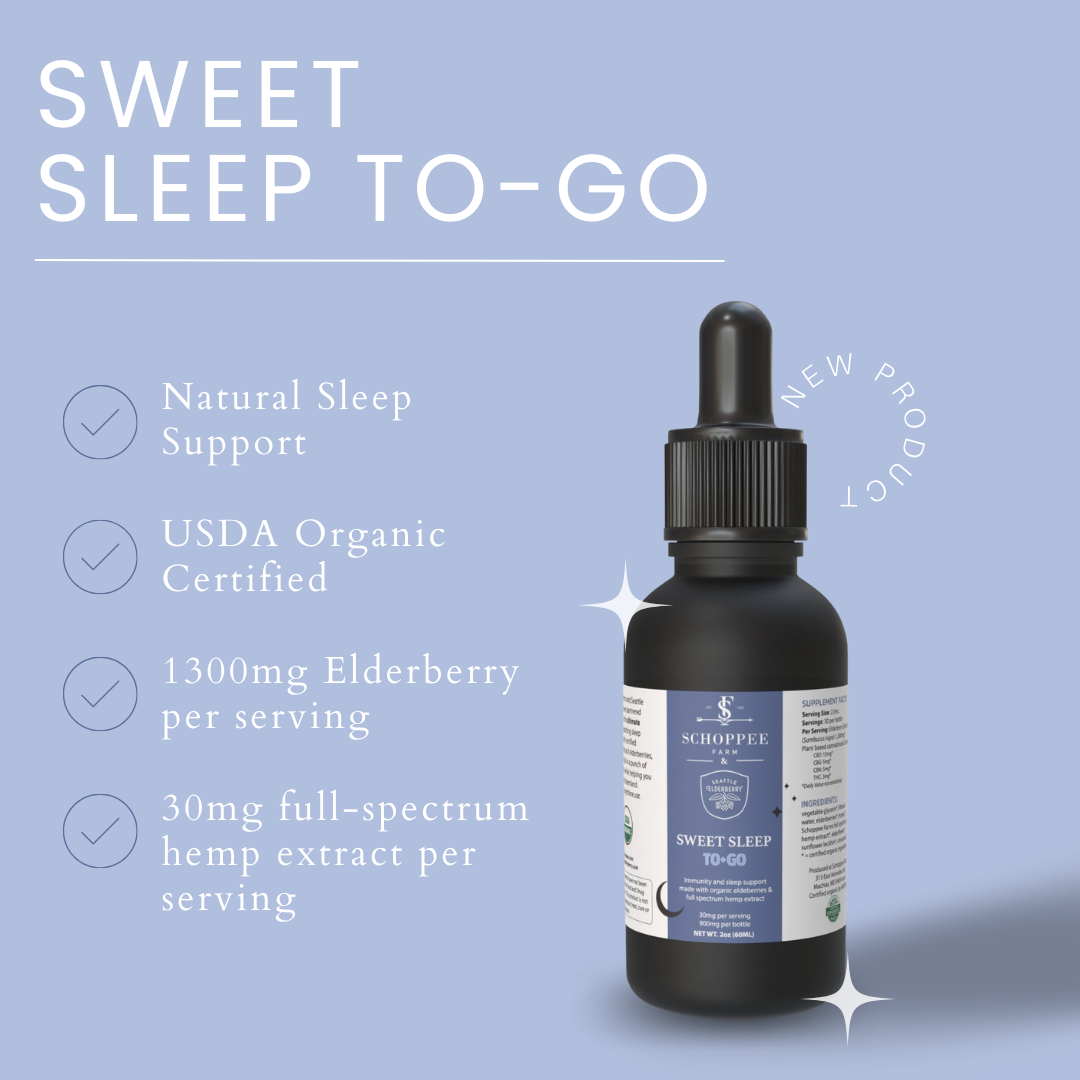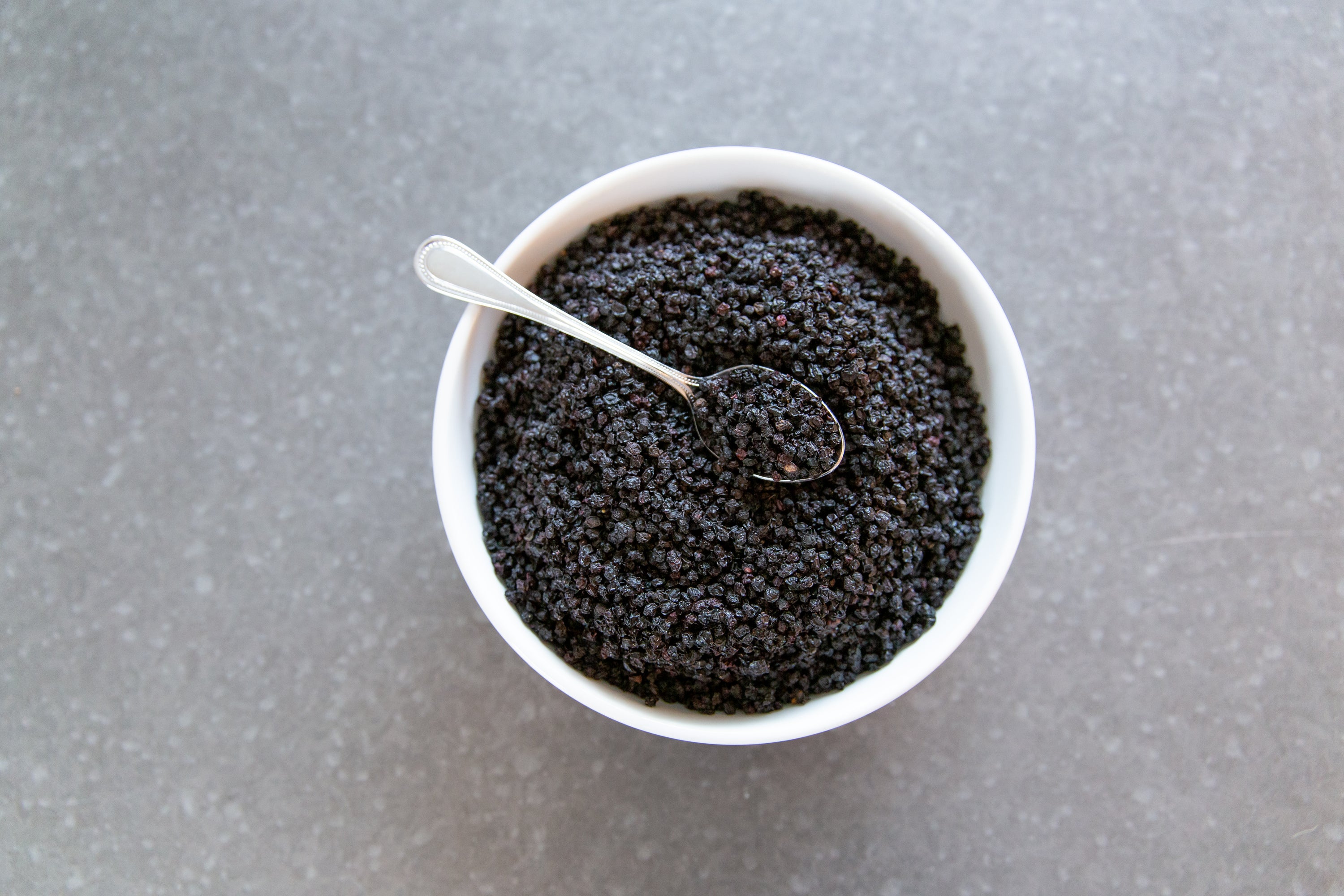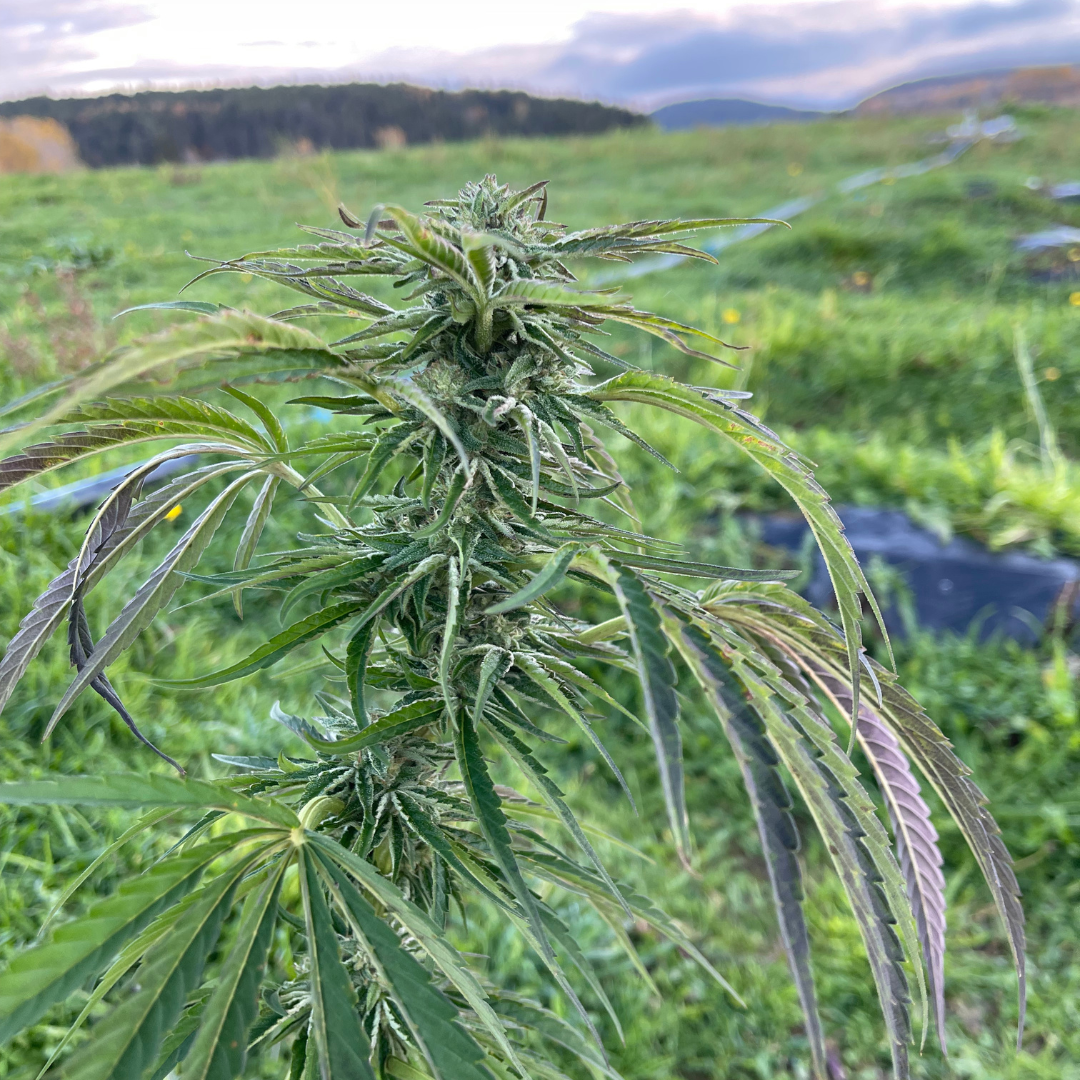 Sweet Sleep To-Go™
$68.00
Regular price
$95.00
Subscription • Save
Easily drift to sleep & stay asleep. Try our Sweet Sleep To-Go™ today for a better nights' rest.
This section doesn't currently include any content. Add content to this section using the sidebar.
leg cramps
My husband has not been able to sleep because problems with legs. We have tried may aplications nouthing worked until he tried sweet sleep to go plus a little more thc it works like a charm so far.!!! Thank you, thank you
A dream come true!
I suffer from insomnia and find the best relief from CBN. I love the elderberry addition to it and if you've been eyeing this or are trying to find the right sleep oil for you, order this!
The quality of sleep that I have gotten after starting sweet sleep is remarkable. I highly recommend.
Great night sleep, every night!
I have always had a very difficult time falling and staying asleep. Sweet Sleep to go helps me fall asleep and stay asleep for a full, restful night !
FAQ
Why Hemp?
We use USDA Organic Certified Hemp grown right on Schoppee Farm. Hemp contains more than 100 naturally occurring cannabinoids that have a myriad of health benefits. In Sweet Sleep To-Go™, we have chosen varieties with higher levels of myrcene and CBN to promote deep, restorative rest!
Why Elderberry?
Elderberries are full of antioxidants and anti-inflammatory compounds and have long been used as a natural remedy to support a healthy immune system. We use organically grown and sustainably harvested wild elderberries to help you feel your best!
How much should I take?
We typically see the best response in the 0.5ml-2.0ml range (1/2 a dropper to 2 full droppers). But response is highly individual,0.25ml can sometimes be enough, and sometimes more than 2.0ml is required. We suggest starting with 0.5ml (half a dropper) of Sweet Sleep To-Go and adjusting from there.
Will I feel high?
It is possible, but unlikely. While Sweet Sleep To-Go does contain 3mg of THC per serving it is not likely to be intoxicating or most users. If you are concerned about this please start at a low dose like 0.25mL and work up as needed. Also, please reach out to us with any questions or concerns.
Will I feel groggy in the morning?
No. This formula should leave you feeling rested and refreshed in the morning.
Should I consult my physician?
Yes. It is always smart to consult your regular physician to discuss changes to your health and wellness routine.
When should I take Sweet Sleep To-Go?
If you have trouble falling asleep try taking Sweet Sleep To-Go™ an hour before bed.
If you have trouble staying asleep try taking yourSweet Sleep To-Go™ just before bedtime.
If you woke up too early and still have 4 or more hours before needing to wake up, try a dose of Sweet Sleep To-Go™ right after you awaken.
Is it habit forming?
No. Sweet Sleep To-Go is not habit forming.
Our Promise to you
100% satisfaction guaranteed
Our products are 100% satisfaction guaranteed for 60 days. If you are not satisfied, for any reason, let us know, and we will make it right. 
See our Purchase and Refund Policy for more details. 
Shipping
Fast shipping
We know it is important to get your order to you as soon as possible. Most of the time we ship the same day you order, but please allow 2 full business days for us to package and ship your order.
Tracking numbers are provided at the time of shipping. Check your spam folder if you don't see your tracking info after 2 full days.
All orders come in sealed packages, inside generic kraft cardboard boxes, with generic return information.
 All orders come with a standard "Notice to Law Enforcement," and a copy of the test results for that product's corresponding batch.  
Packaging
Why we package the way we do…
We believe in doing everything we can to reduce our ecological footprint without compromising the quality and safety of our products. This belief permeates every aspect of our farm, including how we package. Nearly every bit of our packaging is recyclable, or compostable, from the tin cans we use to package our flower, to the little round compostable labels on their bottoms.
See our Environmental Statement for more details.