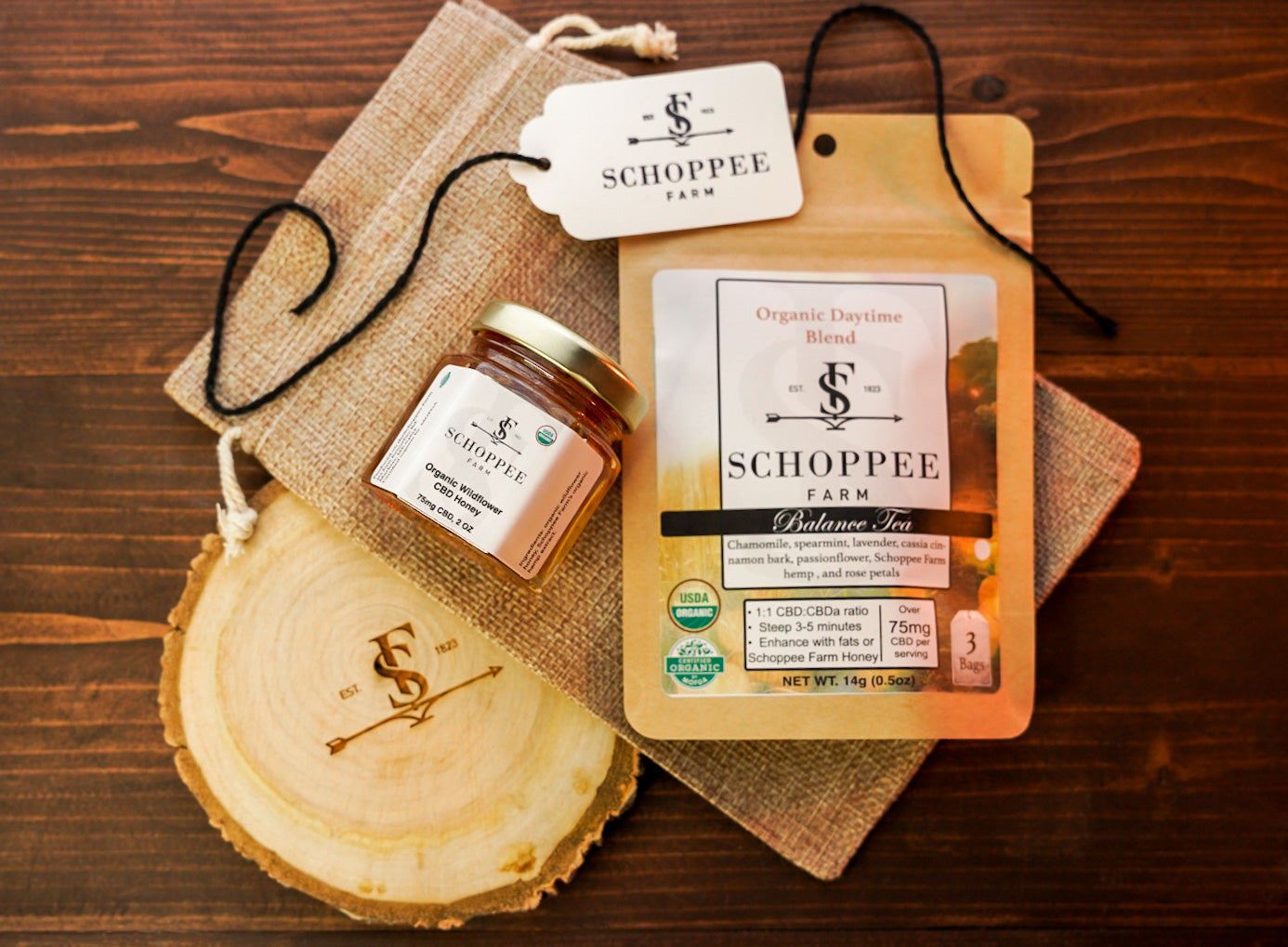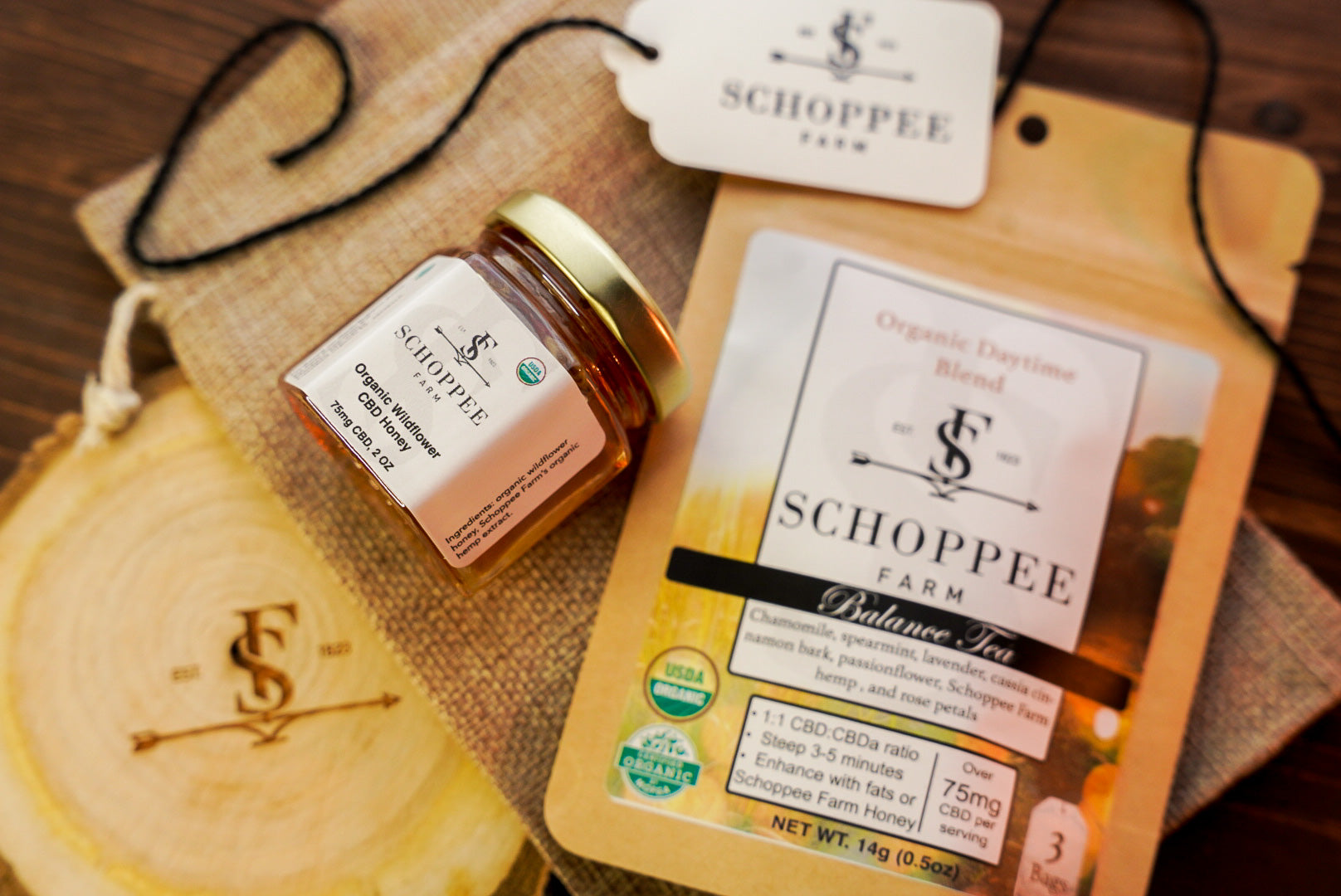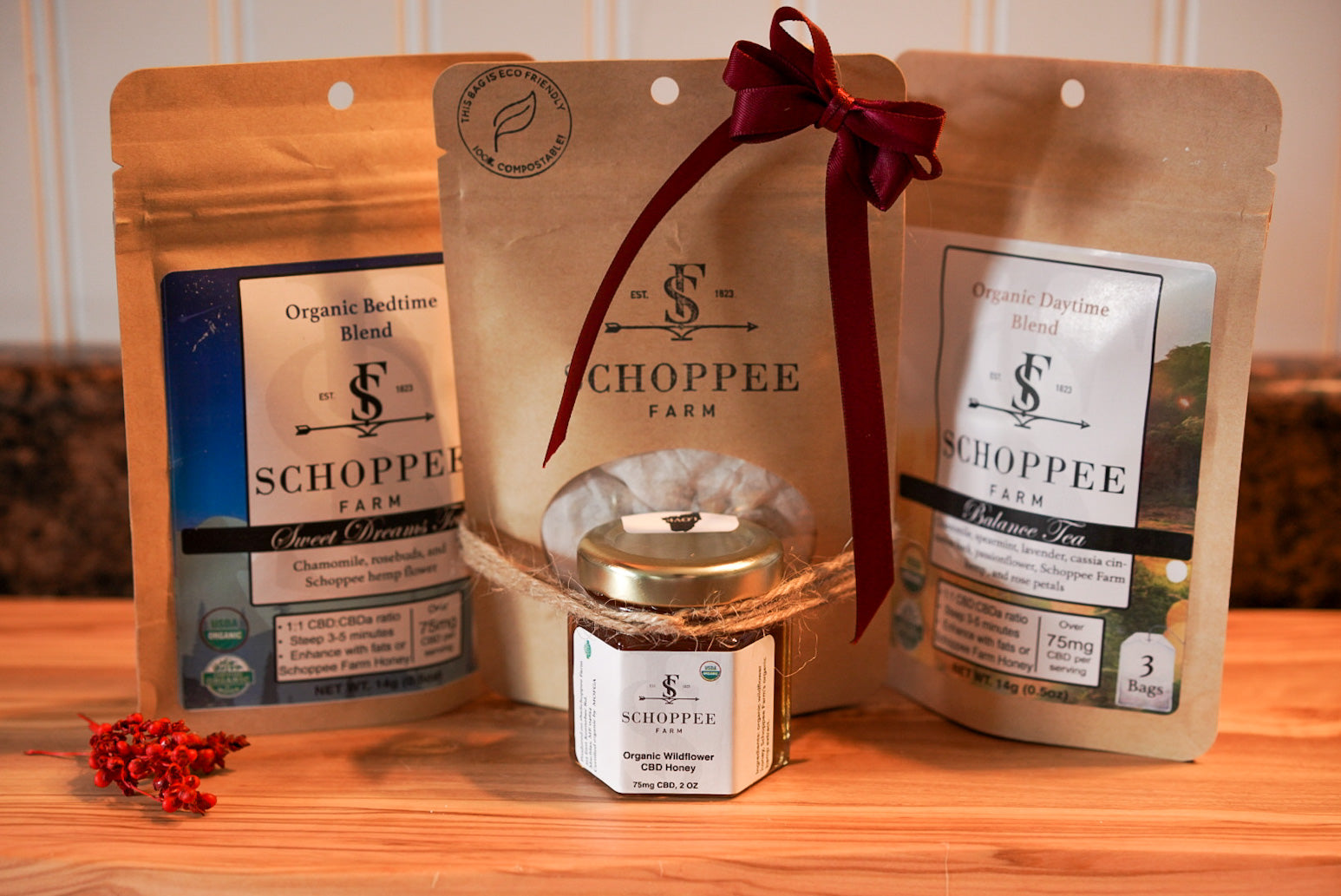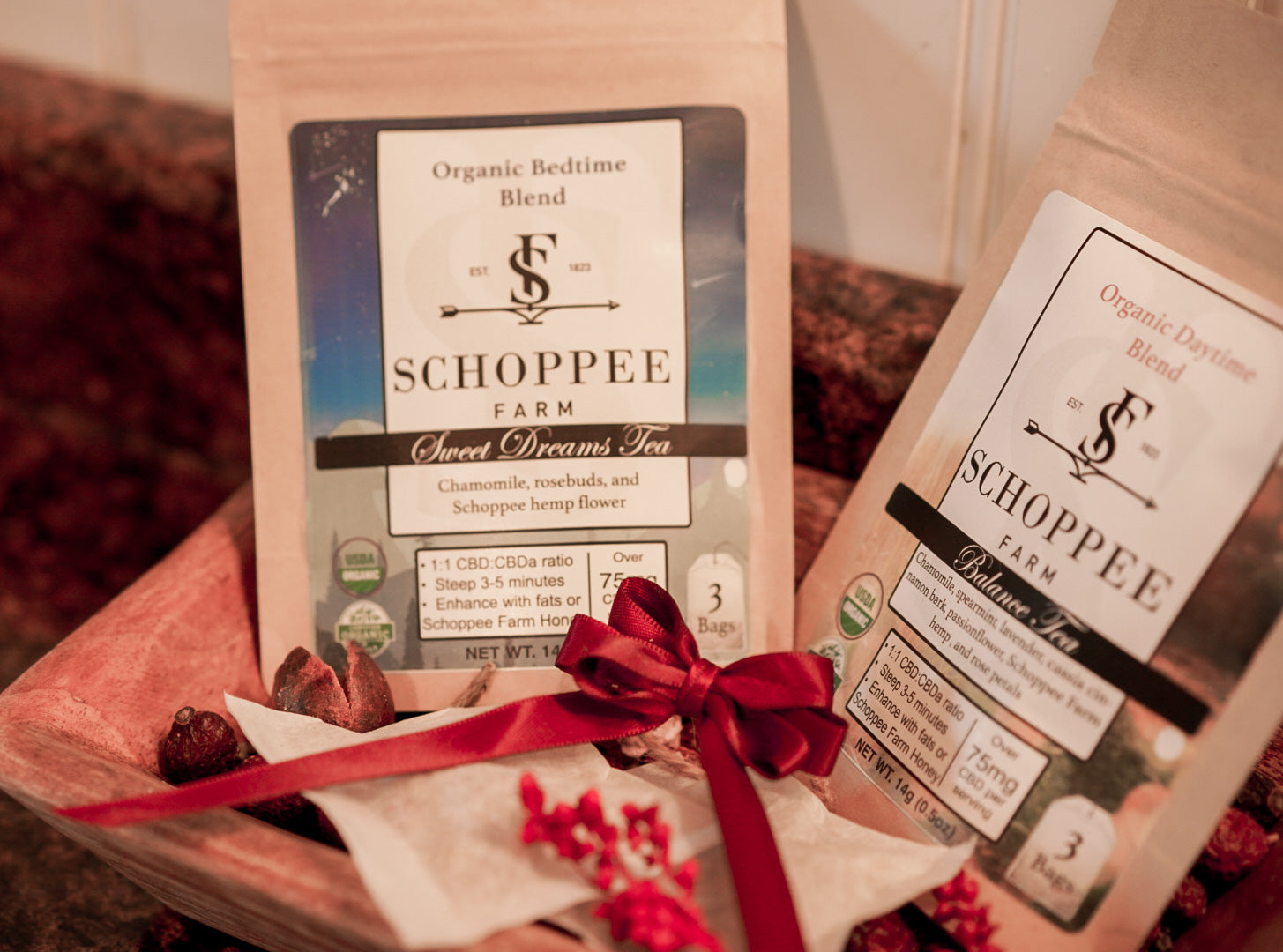 Holiday Tea & Honey Bundle
$23.00
Regular price
$27.00
Subscription • Save
Warm up this holiday season with a cup of our CBD & CBDa tea mixed with a spoonful of wild flower CBD honey! 
This bundle includes:
 2 oz jar of Organic Wild Flower CBD Honey. Made with two simple ingredients: organic wildflower honey, and our certified organic hemp flower. 

3 pack of CBD Infused Tea of your choice: 
Bedtime Blend is the perfect tea for unwinding at the end of the day or to be sipped on during your evening routine. Made with organic chamomile flowers, organic rose bud, organic Schoppee Farm hemp flower.
Daytime Blend is a morning or afternoon tea to be enjoyed anytime throughout your day! Made with organic chamomile flowers, organic spearmint, organic lavender flowers, organic cassia cinnamon bark, organic passionflower, organic Schoppee Farm hemp flower, and organic rose petals.

Holiday Tea & Honey Bundle
$23.00
Regular price
$27.00
Our Promise to you
100% satisfaction guaranteed
Our products are 100% satisfaction guaranteed for 60 days. If you are not satisfied, for any reason, let us know, and we will make it right. 
See our Purchase and Refund Policy for more details. 
FAQ
What is CBD?
CBD is short for cannabidiol. It is one of about 100 cannabinoids that naturally occur in all hemp plants. CBD is safe to consume and non-intoxicating. 
Will it make me feel high?
Short answer: No. CBD is non-intoxicating. 
In Depth: No. Again, CBD will not make you feel high. People love to say that CBD is "non-psychoactive", what they likely mean is that CBD is "non- intoxicating". 
Is CBD addictive?
Short answer: No. CBD is not considered addictive. 
In Depth: CBD is generally considered to be non-habit forming and non-addictive. According to a report from the World Health Organization (WHO), "In humans, CBD exhibits no effects indicative of any abuse or dependence potential…To date, there is no evidence of public health relate problems associated with the use of pure CBD."
What is the difference between THC and CBD?
Short answer: THC (tetrahydrocanabinal), and CBD (cannabidiol) are both naturally occurring cannabinoids. THC is psychoactive and it is intoxicating. It is the component of marijuana that gives users the "high". 
In Depth: In contrast to THC, CBD has no effect on heart rate or blood pressure under normal conditions, but in animal models of stress it reduces hear rate and blood pressure. [48]
Shipping
Fast shipping
We know it is important to get your order to you as soon as possible. Most of the time we are pretty darn fast and ship the same day you order, but please allow 2 full business days for us to package and ship your order.
Tracking numbers are provided at the time of shipping. Check your spam folder if you don't see your tracking info after 2 full days.
All orders come in sealed packages, inside generic kraft cardboard boxes, with generic return information.
 All orders come with a standard "Notice to Law Enforcement," and a copy of the test results for that product's corresponding batch.  
Packaging
Why we package the way we do…
We believe in doing everything we can to reduce our ecological footprint without compromising the quality and safety of our products. This belief permeates every aspect of our farm, including how we package. Nearly every bit of our packaging is recyclable, or compostable, from the tin cans we use to package our flower, to the little round compostable labels on their bottoms.
See our Environmental Statement for more details. 
Great tea/cbd combo product
This product is a great combo of cbd, tea and honey. Definitely worth trying. Not to mention, I've never had a bad product from Schoppee Farm.
Cute bundle!
I had some points from previously and wanted to use it up. I saw this cute little bundle and thought I'd give it a try. It comes in a nice bag and so festive! Honey and tea combo is to die for! try it out for yourself or add it to a gift!